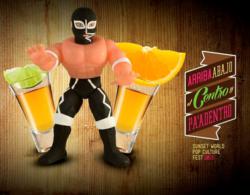 Riviera Maya, Quintana Roo, Mexico (PRWEB) July 01, 2013
Lyn May, Mexican dancer and movie actress, was guest celebrity for the opening ceremony of this original festival that ended this weekend with the participation of actor Ferdinando Valencia and 22 Mexican wrestlers who gave a spectacular demonstration of a sport that is enjoying worldwide popularity.
The Sunset World Pop Culture Fest, with the slogan Arriba, Abajo, al Centro y pa'Adentro!, took place with the support of Mexico Desconocido magazine; Mezcal Imperial, a company committed to producing this drink using artisanal methods; Vamper Revolution, a company that promotes Mexican Wrestling events; the Tlaxcala Prehispanic Cuisine Delegation; and the Institute of Higher Education Creative Studies Department with the aim of showcasing Mexican roots, folklore, and way of life through wrestling contests, tastings of its most traditional drinks (such as tequila, mezcal and pulque), cooking demonstrations, fashion, design, and the celebration of popular festivals.
For the festival grand opening, a dinner show was organized featuring an equestrian show and a band from Sinaloa, one of the northern states of Mexico. During the festival, photographs from the private collection of the Mexico Desconocido magazine were projected, workshops were set up featuring the wealth and slang of the Spanish language, cooking classes and exhibitions of food from different parts of the country were organized, as well as workshops on toys and wrestling.
Members and guests enjoyed tastings and cocktail workshops on how to prepare different drinks with tequila, mezcal and pulque; movies from the golden age of the Mexican film industry were shown, and fancy dress contests were organized, along with exhibitions of dresses made from paper.
The highlight of the closing party was a wrestling event where 22 gladiators from Mexico's male and female wrestling world took each other on in front of hundreds of spectators on the tourist resort's main terrace. Guests enjoyed seeing the holds and counter holds in the bouts between good guys and bad guys.
Among the Mexican gladiators were Vamper, Histeria, Payaso, Rhyno, Dragón Rojo and La Momia, and the female wrestlers were Sexy Flor, Lady Apache, Tiffany and Estrellita. The party ended in the wee hours with a traditional Mexican dinner overlooking the beach and a famous Mexican DJ, Señor Robatero, making music in the pool area.