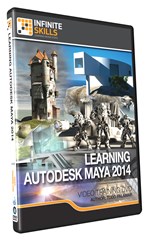 Learn Maya 2014 At Your Own Speed
(PRWEB) July 03, 2013
Software training firm Infinite Skills Inc. this week introduced its "Learning Autodesk Maya 2014 Tutorial," an introductory course designed to provide new Maya users with a basic understanding of Maya's capabilities and tools for creating 3D models.
Autodesk Maya is powerful 3D-model generating software that has been used to produce graphics for movies, games, and television. It has also been used for military and medical simulations.
With Infinite Skills' Learning Autodesk Maya 2014, new Maya users can get familiar with the core functions of this powerful program. Though mastering the most advanced Maya tools and techniques can take a year or more, with this guide, users can begin creating their first Maya models in a matter of hours.
Learning Autodesk Maya 2014 Training Video - DVD
Course author Todd Palamar began his career in special effects creating traditional blood and makeup effects for low budget horror movies. After eventually moving into digital effects, he has worked on notable films and games including the Die Hard Trilogy. He has also authored several books, including two covering specific modeling techniques in Maya studio projects as well as the official training guides for Maya certification.
Palamar begins with an overview at the basic Maya interface and navigation tools, and then gets deeper into Maya's tools, keeping things simple for the most part as he introduces a variety of tools.
"This is not a modeling or animation course," Palamar explains. "It is a general introduction course that will cover some basic aspects of modeling and animation."
Palamar explores various types of objects and drawing modes, starting with nodes and transformations, where he explains how to work with parenting and grouping among other tools.
Following chapters cover curve creation and curve editing tools, and an extensive chapter on Polygon modeling, where students learn basic polygon structures, the extrude tool, how to work with various types of geometry, and much more.
Many other important tools are covered like rigging and weighting in Maya, where Palamar explores the tools for creating and animating a skeleton.
Overall, the course is designed to provide both an introductory guide for getting started with Maya, and a reference tool that students will return to as they need to employ specific tools.
"Maya is an intriguing program with a very robust toolset and a proven track record in producing 3D graphics," Palamar says. "Our objective is to get familiar with the basic tools and working environment."
Free demo videos and a full list of course contents can be found on the Learning Autodesk Maya 2014 Tutorial training page of the Infinite Skills website:
http://www.infiniteskills.com/training/learning-autodesk-maya-2014.html
Infinite Skills offers its Learning Autodesk Maya Training Video Tutorial either as a DVD or a direct download from the company website at a retail price of $99.95. All InfiniteSkills titles and formats are compatible with both Mac and Windows operating systems, and shipping is available around the globe. InfiniteSkills tutorials are supported by project files which correspond to examples in the videos.
About InfiniteSkills Inc.
A leader in the field of software training, Infinite Skills strives to offer the highest quality training available at an affordable cost. InfiniteSkills tutorials are task-oriented instructional videos, teaching complex skills by providing hands-on examples, guiding users as they carry out critical objectives. InfiniteSkills offers a comprehensive range of software titles available as DVDs, digital downloads, and iPad editions, keeping with company aim of delivering professional training to customers anywhere they want to learn.