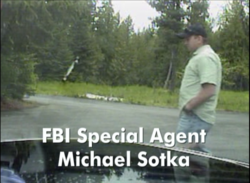 "If FBI technician Snyder thinks this is good audio, he needs a hearing aide." Forensic expert Dennis Walsh
Boulder, Colorado (PRWEB) July 02, 2013
On July 8th, Dennis Riordan, distinguished appellate attorney, will argue Edgar Steele's appeal in Portland, Oregon before the Ninth Circuit Court of Appeals. Following the hearing, attorney Wesley Hoyt and Cyndi Steele will hold a press conference in front of the Courthouse to release copies of the 2-1/2 hour video expose', "Witness to the Persecution - The Plot to Silence Edgar Steele, documenting their side of the case.
Among the issues and allegations before the Ninth Circuit in the 82 page appeal are:
1. Defendant's Motion for a New Trial and Claim of Ineffective Assistance Based on Trial Counsel's Pending Disbarment and Deficient Performance During Trial (Page 33)
According to the appeal, the defense was unaware that Edgar's attorney was being investigated for various felonies. The Denver Post reported on June 30, 2010 that Robert McAllister was being investigated for wire fraud and money laundering. He pled guilty on May 24, 2012 and told the Post he felt he provide inadequate representation to "a client convicted earlier in the year of murder for hire." During the 2011 trial, the defense was unaware that Edgar's attorney, Robert T. McAllister, was being investigated for felonies during the Steele trial and was indicted in July 2011 by the same US Government that was prosecuting Steele. McAllister was quoted by the Denver Post, "Two months later, McAllister told a judge in Idaho that he had provided ineffective counsel to a client convicted earlier in the year of murder-for-hire. The trial occurred while McAllister was dealing with his possible disbarment. "At the time . . . I did not recognize the extent to which my mental state had deteriorated" as a result of his remorse, McAllister wrote.
2. In the complaint the defense alleges that a Government informant may have been secretly taping trial counsel's communications during defendant's trial (Page 38)
3. The defense will seek to highlight what it alleges are inconsistencies and misstatements by Larry Fairfax in the 2011 trial. The filed appeal alleges Fairfax did not tell anyone he placed the bomb on Cindy Steele's car and then had shifting rationalizations for not doing so. "First, the defense emphasized the instances in which [Larry] Fairfax had concealed material facts and/or been demonstrably untruthful, including the following: Fairfax did not tell Sotka or anyone else in law enforcement about the fact that he had placed a bomb on Cyndi Steele's car on June 9th, June 10th, or at any time until after the bomb was found on Cyndi's car on June 15th (see below). (RT 419, 1430)" Fairfax said he did not do so because, among other things, he "didn't have [his] immunity yet," "didn't want to get in trouble," thought the device had fallen off, and that "thought he could get away with it." (RT 488, 505; see also RT 476, 531). (Page 20)
The prosecution team in this case was FBI Special Agent Michael Sotka, U.S. attorney Wendy Olson, and Prosecutors Traci Whelen and Marc Hawes. Federal Judge Winmill presided over the 2011 trial.
No. 12-30005
UNITED STATES COURT OF APPEALS FOR THE NINTH CIRCUIT UNITED STATES OF AMERICA,
Plaintiff-Appellee,
v.
EDGAR J. STEELE.
Defendant-Appellant.
Appeal From The Idaho District Court
No. CR 10-00148 BLW