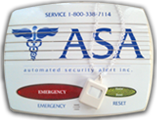 Pittsburgh, PA (PRWEB) July 01, 2013
With the costs of healthcare perpetually rising, some elderly individuals are finding it much more affordable to move in with an adult child rather than into assisted living. But when an adult with no medical training finds themselves in the role of caregiver the responsibility can take its toll. "If you are the main caregiver for your mom or dad, you know how huge of an undertaking that can be. Not only does it involve lots of hours, but it can start to get emotionally draining very quickly," said Jason Seyler, Automated Security Alert's Director of Life Safety. The Pittsburgh-based company specializes in in-home monitoring equipment and services to enable senior citizens and physically-challenged persons to remain in their own homes rather than in care facilities.
Even in situations when an elderly person is living with their adult children, having a medical alarm can improve the situation for everyone involved. Seyler further commented, "Looking into a medical alarm for your parent's home can be an important step both for their safety and for you. Having a medical alarm in the home can be beneficial even when you are at home with them. If you are in the other room folding laundry when mom falls, all she has to do is press her medical alrm button and both you and our Life Safety monitoring center will be immediately notified that something is going on. Knowing that your parents can get help at anytime will allow you to feel less worried when you are out handling your business. If you're an in-home non-medical caregiver, LIFE program worker, or a home health nurse, having a medical alarm in place at your patient's home will ensure they have access to help when you're not there. This will improve the care you're giving this patient and produce better outcomes."
For further information, please contact Matthew Couillard at 1.800.338.7114.