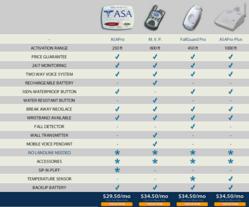 Pittsburgh, PA (PRWEB) July 02, 2013
Most medical alarm companies aren't run by medical companies, but by security companies that automatically send an ambulance when a button is pressed. Without assessing a situation to see if an ambulance is actually needed, this can cause seniors unnecessary expenses, and can make seniors feel they have no help in non-medical emergencies. The Pittsburgh-based company Automated Security Alert is a company that deals only with medical monitoring, and their Life Safety Operators are trained to help senior citizens and physically-challenged persons in a variety of situations.
Jason Seyler, Automated Security Alert's Director of Life Safety, recently explained how his company's unique approach can be the best option for individuals who struggle with hearing loss. "We have a lot of medical alarm customers who are hard of hearing, deaf, or sometimes are without their hearing aids. Some of our hard of hearing clients are able to communicate with an operator simply because they know that anytime they press the button, the operator will simply ask if they are alright. They may not be able to hear exactly what is said because of their level of hearing, but they are able to tell the operator that they are okay or just testing their medical alarm because they know how their life safety operator is trained. If it is an emergency, they can simply explain the situation to the operator. Our medical alarms are designed to allow you to communicate back and forth with a Life Safety Operator throughout your entire home, but this communication is secondary to getting help. Our medical alarms work even without that speaker – all they have to do is press that button, and if we don't get a verbal response we send help."
For further information, please contact Matthew Couillard at 1-800-338-7114.