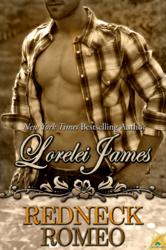 "Lorelei is not only one of our favorite authors, she's a fan favorite as well," said Lindsey Faber, publisher, Samhain Publishing. "We are delighted to partner with her to bring this extraordinary series to readers worldwide."
Cincinnati, OH (PRWEB) July 01, 2013
International publisher Samhain Publishing® today announced that author Lorelei James has been ranked on the USA Today Bestseller list (73) for eBooks and print books, with her eBook romance, Redneck Romeo. The novel is only available in eBook format.
"Lorelei is not only one of our favorite authors, she's a fan favorite as well," said Lindsey Faber, publisher, Samhain Publishing. "We are delighted to partner with her to bring this extraordinary series to readers worldwide."
The USA Today Bestseller list combines combines both eBook and traditional print books in the same list. Bestseller lists are also published by Publishers Weekly, a trade publication, and newspapers including The Los Angeles Times and New York Times.
About Samhain Publishing
Launched in 2005 with a vision of bringing extraordinary fiction to compulsive readers (who sometimes can't wait for a book to actually be printed), Samhain Publishing® is an international publisher of ebook and traditional print fiction. One of the most prominent voices of original ebook fiction, Samhain represents some of today's brightest authors of romance and horror. To learn why at Samhain "it's all about the story…", visit Samhain Publishing online at http://www.samhainpublishing.com.