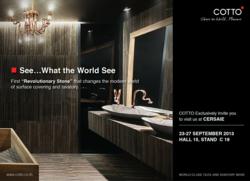 In consecutively 7 years, COTTO, as one of the responsible trendsetters in the tiles and sanitary industry
(PRWEB) July 02, 2013
In the last 7 years, COTTO has emerged as a reliable brand which is known for launching new trends. The brand has been constantly innovating and improving upon its existing line of designs to appeal to a larger client base. It has earned international accolades for the same.
It launched "Marmo Granito", PALIZZA, ERAMO, and PARADISO series in Milan's Salone del Mobile 2013. It is successful and claimed to be a revolutionary stone which has a strong ability to transform modern world perception of tiles, sanitary ware and surface coverings.
In CERSIE 2013, the brand is showcasing an exclusive range of porcelain tiles and lavatory. "COTTO Italia" is a new range of high end tiles designed for its international clients. This product comes from a joint collaboration between COTTO and global Italian partners. This range has some of the most exclusive porcelain tiles having Italian tradition and COTTO's Innovation under one brand name.
The company expects to strengthen its brand image with this new launch. The Italian partners collaborating in this product line said "we are very impressed with the advanced techniques and modern approach utilized in manufacturing of tiles, sanitary ware and lavatory by COTTO. We also look forward to impressing brand customers with Italian traditional tiles".
Leading Italian partners participating with COTTO in this product manufacturing are:
Florim Group, Mutina and Laminam. COTTO is an exceptional sanitary ware brand which adheres to being environmentally responsible while creating products showcasing good examples of craftsmanship and advanced technology.
This event will be held at Exhibition Center – Bologna (Italy). To experience the everlasting comfort of COTTO's unique texture porcelain tiles and to know more about the latest techniques being used in sanitary ware manufacturing, all are invited for a free visit.
COTTO's Stall: HALL 15, STAND C 19: 23-27 September 2013.