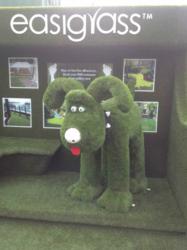 (PRWEB) July 01, 2013
Where would international music festivals be without mud or dust in the arena? Together with beer, hotdogs, plastic beakers and merchandise, of course.
The UK's number one artificial grass brand, easigrass™, winner of the lauded Chelsea Flower Show 2013 Gold Medal (UK), may have put a large grass-like spanner in the works of international music festival culture, having installed 30,000 square metres of artificial grass in record-breaking speed at Queen Elizabeth Olympic Park (one of the London 2012 Stadiums) – just in time for Bruce Springsteen and The E Street Band's headline performance at 'Hard Rock Calling' this weekend past.
Focusing on providing high impact durable grass-copy for big-bang outdoor events, sports stadiums and resi or commercial terraces alike, easigrass has beaten its world record installation-wise this week to mark the launch of its event company Easi-Event. Having laid an unprecedented 30,000 square metres of turf in only four days at QEOP this week, easigrass would normally install a 6,000 square metre soccer pitch like Chelsea's training ground over seven days.
According to easigrass's Managing Director, Anthony Gallagher:
"What a few extraordinary days this has been. My whole team is so proud to be part of the London 2012 Olympic legacy. As we begin the UK Summer Festival Season with an utterly dreary weather forecast, the outlook is positively bright in terms of our easigrass product and how it can transform any interior or exterior space – anywhere in the world. But what will festival-goers the world over think about 'hanging up their Hunters'?
"This weekend's showcase opportunity for the easigrass brand in the heart of London history was timely given the launch of our new Easi-Event brand. Furthermore, with space being at an utter premium in any big City, the easigrass product is as conducive to a roof terrace in NYC as it is to a ranch in The Rockies – with or without wellies," he added.
easigrass has provided artificial grass for part of the world's first mud-free live event on behalf of Live Nation's 'Hard Rock Calling' featuring Bruce Springsteen last weekend at Queen Elizabeth Olympic Park, London, UK. This landmark event supported the launch of easigrass's sister company, Easi-Event, with capacity to install artificial grass anywhere in the world. Previous UK clients include Chelsea Football Club, Mothercare, Harvey Nichols, Harrods and Selfridges, amongst a multitude of international names.
For more information about easigrass and the newly launched Easi-Event brand, please contact http://www.easigrass.com or call +44 (0)845 094 8880 (UK only). See website for international partners.
Like us on Facebook and follow us on Twitter.
-ends-
Editor's Notes:

easigrass was founded by dynamic British business partner siblings, Anthony and Jonathan Gallagher, some 17 years ago, in the North East of England.
Jonathan Gallagher, one of the brothers, had been involved in the artificial grass industry for 25 years, on the sports-performance side.
The business started out as sports-focused and Jonathan's brother Anthony was brought in to quickly grow the leisure side during the last five years
Annual turnover is £7million internationally (US$10.5 million approx) under the various business names
easigrass offers a partner program with exclusivity in regions (within leisure) and also assistance within the sporting arena too. Internationally, easigrass grants international licences
easigrass has international licence agreements in place within New Zealand, Brazil and South Africa and is currently establishing the same within Belgium and Norway
Easi-Event has been launched in conjunction with international partners and the team derives all parts of Europe
easigrass is not a DIY product and is fitted by trained professionals
Lead in prices are £50 per square metre
easigrass is the world's only 100% durable grass alternative that resists all weather conditions (even in Alaska)
easigrass has designed a fleet of easibug™ eco-friendly cars with easigrass on the outside
Some of easigrass's key clients include Wimbledon – All England Lawn Tennis Club, Harrods, Harvey Nichols, Selfridges, Chelsea Football Club and John Lewis
easigrass has broken a world record in June 2013, installing 30,000 square metres of easigrass in four days at Queen Elizabeth Olympic Park in London. Their normal install time is 6,000 square metres in seven days for the likes of a football pitch such as Chelsea's Training Ground – the organisation is looking into whether this is actually a Guinness World Record