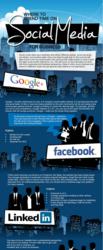 Certain industries have more to gain than others from specific social media sites.
San Diego, CA (PRWEB) July 02, 2013
Ignite Visibility, a San Diego Internet marketing company specializing in SEO, social media, reputation management and pay per click, has released key insight on where to spend time on social media for business. The recommendations come from analysis of hundreds of analytics accounts and years of industry experience.
"Customers ask us all the time where they should focus their time on social media," said Ignite Visibility's President of SEO and Social Media, John E Lincoln. "They want to know where they should have a personal profile and where they should create a business page and how much time they should spend on each site. This is a difficult question to answer, because each business is different. Certain industries have more to gain than others from specific social media sites. That being said, we wanted to create a general guide on where to spend time."
The in-depth report looks at social media websites, such as Google +, Facebook, LinkedIn, Twitter, Pinterest, SnapChat, Foursquare, YouTube, Reddit, StumbleUpon and Instagram. It also lists key points on each site to help guide businesses owners on to the right platform.
"It is a given that businesses should be on social media at this point," said Lincoln. "But if a business development specialist spends his entire day on SnapChat that is most likely going to be a waste of time. On the other hand, if he or she is networking on LinkedIn, getting +1s on Google +, creating high traffic YouTube videos or building a Facebook community of potential clients, that person could see a big return. We want people to get more business with less effort."
Ignite Visibility Internet Marketing makes it clear that this is a general report based on experience and behind the scenes analytic data. They also state that it should be reiterated that every business is different. Finally, they make it clear that with the right strategies, you can make an impact on any social media site, to the degree that that site allows for your industry. But generally speaking, Ignite Visibility' recommends following the criteria in the report to start.
Read the Report on Where to Spend Time on Social Media for Business.
Ignite Visibility Internet Marketing believes social media to be one of the most important online marketing strategies. They recommend all companies create a social media strategy and update that strategy regularly.
About Ignite Visibility
Ignite Visibility has a vision to be the most innovative, effective and honest Internet marketing company in the world. With a low client to project manager ratio, Ignite Visibility provides high-touch expertise to each client to ensure maximum results. Learn more about Ignite Visibility and their completely customized and advanced Internet marketing strategies.