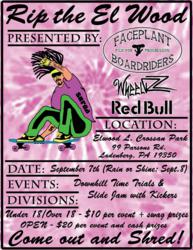 'Rip the El Wood' is set to be a stand out event in technical timed trials and especially Longboard Freeriding and Slopestyle.
(PRWEB) July 02, 2013
Faceplant Boardriders and WheelRZ are throwing another major event in the Mid-Atlantic Region that expects to have a high number of participants. The longboarding event is set to start at 9am on Saturday, September 7th with the rain date being Sunday, September 8th (rain or shine). 'Rip the El Wood' will take place at 99 Parson Road, Landenberg, PA at the Franklin Township Park. Longboarding has been growing as a sport exponentially the past few years thanks to innovative riders and companies that are always pushing the progression of longboarding in every way. The "Rip the El Wood" is another event by FB and WheelRZ that is designed to push the progression of every longboarder out there.
Faceplant Boardriders and WheelRZ are setting a higher standard when it comes to longboarding events. FB/WheelRZ Owner Ricky Wheeler said, "Our goal is to make events highly organized, sanctioned, safe and fun for not only the riders but the spectators as well. We have created a reputation from hosting previous events which brings competitors from all over back for more. We want to keep longboarding events growing in size and skill, and continue to get more people longboarding."
Faceplant Boardriders and WheelRZ first two events were setup to bring riders together and have a fun day of shredding many different types of riding disciplines such as slalom, downhill, sliding, style sessions, and even a ditch session. The course setups were fun and progressive at both the 'Skate the Cape' and 'Skate for Peace' Events they have had. The 'Rip the El Wood' is meant to really push riders to the next level. Both the Downhill Course and the slide course are going to be like nothing the Mid-Atlantic Region has seen yet.
'Rip the El Wood' is going to have a Downhill Timed Race on a skinny, winding path in an open field that will test a downhill riders technical skills to the fullest extent. One rider will go at a time and the rider with the best time will win. All afternoon there will be a slide jam with some features to add to the slide hill. Faceplant Boardriders, WheelRZ, and Red Bull are collaborating together to build a Red Bull Kicker for this event. Riders will be judged on course creativity, speed and style. There will be secret judges from board shops and manufacturers that will be placed up and down the slide hill to keep the judging as honest as possible. There will be plenty of prizes for all divisions and cash prizes for the Open divisions.
Get all of the event details at the facebook event page at https://www.facebook.com/events/145433505636967/permalink/160163914163926/. Faceplant Boardriders and WheelRZ will be having a second annual 'Skate the Cape Shred Festival', except this year the event is setup to be a two day longboard festival. Keep up with Faceplant Boardriders Event on their Events Page of their website at http://faceplantboardriders.com/events.