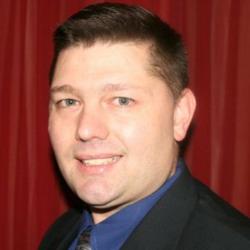 San Francisco, CA (PRWEB) July 02, 2013
MAD Security, a company focused on providing unique solutions to the human side of information security, is proud to announce the appointment of Commander Cliff Neve to the position of Vice President of Security Services. Within this role, Commander Neve will provide management, leadership, and strategic planning to the MAD team.
Commander Neve brings 20 years of Coast Guard career experience to MAD which includes tours as Chief of Operations for Coast Guard Cyber Command, Deputy Chief Information Officer at the White House Communications Agency, as well as Assistant Program Manager for C4ISR at Coast Guard Headquarters. In his most recent position as Chief of Operations for the US Coast Guard Cyber Command, he shaped the vision of the organization and built it from the ground up. His vast knowledge and expertise in contingency planning and workforce management has resulted in positive changes in every organization and agency he has been involved with.
Beyond his professional experience, Commander Neve's educational background includes Masters of Science in both Information Leadership as well as Electrical Engineering. He also holds Master's Certificates in Strategic Leadership and Chief Information Officer from the National Defense University housed in Washington, D.C. as well as ISC²s coveted Certified Information Systems Security Practitioner (CISSP) certification.
"Cliff's technical expertise and dynamic leadership are the perfect fit for MAD Security", says MAD's Managing Partner Michael Murray. "His visionary roles with both DHS and DoD will be a huge advantage to us, and his reputation as a true people-person and empowering manager fits perfectly with MAD's culture of innovation."
Commander Neve adds, "I couldn't be more excited to be a part of the talented MAD team, and I'm looking forward to building partnerships to ensure the protection of our clients' information."
The addition of Commander Neve to its fast growing and highly talented roster proves that MAD Security will continue to pioneer the research of how human nature affects information security and react accordingly by developing solutions to alleviate threats among organizations.
Share on Twitter: @MADSecInc appoints CDR Cliff Neve as VP of Security Services.
MAD Security works to provide clients with services, products and information security training that help them solve their major security problems. MAD Security is helping to develop a highly-skilled and always aware staff in both the civilian sector as well as government agencies. For more information, visit http://www.madsecurity.com