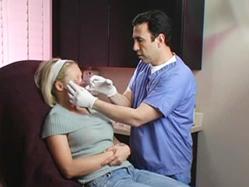 Los Angeles, California (PRWEB) July 01, 2013
According to an article published in the July/August 2013 issue of Shape Magazine, titled "A Lifetime of Good Skin," human skin normally becomes less elastic and supple over time and as a result, it may develop problems that affect its appearance such as sagging, deep creases, and hollow cheeks. Fortunately, with recent advances in skin care technology, women over the age of 40 now have access to numerous skin care treatments that can help slow down the effects of aging on their skin and ultimately help them to look younger (Go to goo.gl/raeBl).
"Genetics play a big part in how one's skin ages," says Dr. Simon Ourian, Medical Director of Epione Beverly Hills, "but it's certainly true that years of regular sunscreen use provides significant benefit."
According to the article, as skin ages it loses fat fast, exposing folds and deep creases. Even though deep creases begin appearing on the skin when women are in their 30's, they are more visible among women that are in or entering their 40s, especially on the skin around the lips, nose, and corners of the mouth. It is possible to get rid of unsightly deep creases and consequently look younger by injecting dermal fillers such as Restylane and Juvéderm.
Another issue, according to the article, is that the structure of the skin breaks down with age, and one of the common side effects of this break down is the loss of facial skin fat leading to the appearance of hollowed cheekbones. To fix this problem, one can use injectable dermal fillers, such as Perlane, that replace the lost skin volume and lift the skin. Other volumizers, such as Radiesse, can also help to restore lost cheekbone volume.
"By the time most women turn 40, their skin starts sagging due to loss of elasticity," says Dr. Ourian. "One of the most effective treatments for this problem is the use of noninvasive skin-tightening ultrasound/radio frequency procedures that involve heating skin tissue to stimulate the production of collagen, which tightens and firms sagging skin."
Dr. Ourian has been a pioneer in laser technology and non-invasive aesthetic procedures including Restylane, Juvéderm, Radiesse and Sculptra. These treatments are used for the correction or reversal of a variety of conditions such as acne, acne scars, skin discoloration, wrinkles, stretch marks, varicose veins, cellulite, and others. More information about cosmetic treatments for women in their 40's can be found on Epione's website.