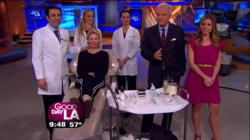 Los Angeles, California (PRWEB) July 05, 2013
According to a June 21, 2013 Glamour.com article, titled "3 New Sunscreen Tips to Keep Your Skin Healthy (and Pretty!)," it is important to understand how to properly apply sunscreen so skin is protected and harmful ultra violet rays are deflected. When applying sunscreen there are some important guidelines to follow to ensure that the skin is kept safe, healthy, and glowing (Go to goo.gl/1o4Z4).
"This article is very timely," says Dr. Simon Ourian, Medical Director of Epione Beverly Hills. "Now that it's summertime, it's helpful to have a simple set of instructions for the proper application of sunscreen."
According to the report, many sunscreen formulas include zinc oxide, an ingredient that may produce DNA damaging free radicals when exposed to sunlight. While the sunscreen protection zinc oxide provides outweighs the free radical production concern, applying an antioxidant serum can help neutralize the effects of free radicals. In fact, some sunscreens contain antioxidants and these may be a good choice for people who prefer a two-in-one formula so they can skip a step.
The second tip offered by the report states that guidelines for sunscreen application call for one ounce to cover an entire adult body. However, to be safe, one should apply two ounces of sunscreen to ensure maximum sun protection. Applying two ounces helps ensure complete coverage and that there are no sunburn spots from incomplete application.
The article's third tip is to resist the urge to towel off when getting out of the water as doing so may remove sunscreen and cause burns. Since sunscreens are only water resistant for forty to eighty minutes, toweling off immediately after swimming may actually remove all of the sunscreen. Instead of drying off with a towel, simply allow the water to evaporate to help keep the sunscreen on longer.
"Proper sunscreen use can also help prevent melanoma, hyper-pigmentation, and other overexposure problems," says Dr. Ourian. "Be smart and make sure enjoying the sun does not cause lasting damage by applying sunscreen properly."
Dr. Ourian has been a pioneer in laser technology and non-invasive aesthetic procedures including Restylane, Juvéderm, Radiesse and Sculptra. These treatments are used for the correction or reversal of a variety of conditions such as acne, acne scars, skin discoloration, wrinkles, stretch marks, varicose veins, cellulite, and others. More information about proper sunscreen application can be found on Epione's website