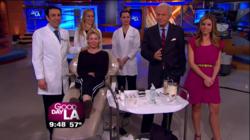 Los Angeles, California (PRWEB) July 02, 2013
According to a June 21, 2013 Harper's Bazaar article, titled "Go for the Gold," gold seems to be gaining more ground in the realm cosmetics and anti-aging. Gold, it turns out, may have some powerful effect on the integrity and appearance of the skin (Go to goo.gl/SN7T2).
"I found the article interesting, says Dr. Simon Ourian, Medical Director of Epione Beverly Hills, "but there is no way I'd recommend that my patients use gold as a skin care ingredient until I see legitimate scientific evidence of its safety and efficacy."
According to the report, there is no solid evidence that gold can have any effect on one's skin at all. However, there are many firsthand accounts of how gold makes one's face feel and look after application. Products containing gold are particularly marketed toward women, including fine gold dust in creams and lotions.
The article states that some experts believe that the gold dust in these cosmetics is just a marketing gimmick and that any reliable results are really due to other substances in the product. Nevertheless, there is a growing legion of believers who claim that colloidal gold can work wonders. Even doubters agree that such products are unlikely to do any harm. The medically accepted practice of injecting colloidal gold uses far more of this precious metal than these topical applications and has no serious side effects.
"It stands to reason that gold dust on the skin will reflect light, providing a glowing look," says Dr. Ourian. "For some, apparently, that's enough to justify the expense."
Dr. Ourian has been a pioneer in laser technology and non-invasive aesthetic procedures including Restylane, Juvéderm, Radiesse and Sculptra. These treatments are used for the correction or reversal of a variety of conditions such as acne, acne scars, skin discoloration, wrinkles, stretch marks, varicose veins, cellulite, and others. More information on the use of gold in cosmetics can be found on Epione's website.