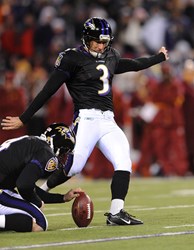 As a retired NFL Kicker, devout Christian and dedicated family man, I feel blessed to have the opportunity to utilize my platform to make a difference in the lives of those affected by cancer. Matt Stover
Phoenix, AZ (PRWEB) July 01, 2013
Retired NFL kicker Matt Stover, the NFL's fifth all-time leading scorer, has joined Kicking For The Dream's effort to fight ovarian cancer according to NFL Kicker, and Kicking For The Dream founder, Billy Cundiff.
"I really enjoyed getting to know Matt while we were in Baltimore and it's great to have stayed in touch with him since then," says Cundiff. "Matt had an incredible career in the NFL, both on and off the field. He was not only a great kicker in the NFL, but he was always someone who wanted to share his good fortune with others and his community. He does great things with his own foundation and with his other charitable projects and we are excited to have his support for Kicking For The Dream."
Stover says he is glad to be able to support Billy Cundiff and his Kicking for the Dream project, as cancer is something that touches everyone's life.
"As a retired NFL Kicker, devout Christian and dedicated family man, I feel blessed to have the opportunity to utilize my platform to make a difference in the lives of those affected by cancer," says Stover. "Too many have had a close experience with this horrible disease, whether it be a family member, close friend, teammate, or if you yourself have experienced it. Join me in supporting Colleen's Dream Foundation and together we can find treatment and a cure!"
Go here for Matt Stover's Kicking For The Dream page.
Stover, a Pro Bowl kicker, two-time Super Bowl Champion and the NFL's fifth all-time leading scorer, played for the New York Giants, Cleveland Browns, Baltimore Ravens and Indianapolis Colts.
Stover retired after the 2009 season as a Baltimore Raven. At the time of his retirement, he was the last remaining member of the original Cleveland Browns still active in the NFL.
In 2011, after his 13-season tenure with the Baltimore Ravens, Stover was inducted into the Ravens Ring of Honor, which recognizes elite players who possess a rare combination of talent and characteristics that every member of the Ravens organization strives to achieve and maintain.
For Stover, supporting Kicking For The Dream is just one more effort to be of service to others as he has been involved in charitable activities for many years.
In 2002, Stover and his wife formed the Matt Stover Foundation, which is dedicated to improving the Baltimore community and helping those in need through a variety of programs, outreach and support.
Go here for information about the Matt Stover Foundation.
Stover is also currently Vice President and Co-Founder of the Players' Philanthropy Fund (PPF), a donor advised fund to facilitate charitable giving for professional athletes. A firm believer in philanthropy and giving back to the community, Stover co-founded PPF to continue to make philanthropy a part of the next chapter of his life off the field. Stover strives to assist professional athletes in becoming the philanthropic leaders that they can and should be in their communities.
Go here for more information about the Player's Philanthropy Fund.
ABOUT KICKING FOR THE DREAM and COLLEEN'S DREAM FOUNDATION:
Billy Cundiff, who has been an NFL kicker for over 10 years for teams such as the Cowboys, Saints, Browns, Ravens and Redskins, launched Kicking For The Dream in May of 2013, as an effort to support Colleen's Dream Foundation, a foundation which raises money to support research for the early detection of, and improved treatment for, ovarian cancer.
He says Colleen's Dream Foundation started in 2012 as a result of his mother-in-laws' battle with ovarian cancer.
"Colleen felt it was important to raise money for research that will lead to reliable early detection testing and improved treatment for ovarian cancer," says Cundiff. "Because so little is known about ovarian cancer in proportion to other women's health issues, we have an incredible opportunity for research and education."
Cundiff says Colleen's Dream Foundation has recently provided ovarian cancer research grants and gifts to Johns Hopkins University and The University of Arizona Cancer Center.
Go here for more information about Kicking For The Dream.
Go here for more information about Colleen's Dream Foundation.