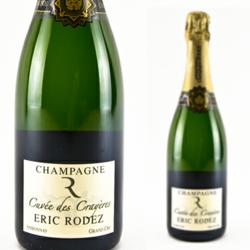 Vienna, VA (PRWEB) July 01, 2013
Classe Wines is pleased to announce that it is offering NV Grand Cru Champagne by Eric Rodez for sale in the United States. NV Grand Cru Champagne by Eric Rodez is a premium champagne that is the latest in a series of fine offerings by the Rodez family, who have been in the champagne making business for eight generations. This premium champagne is a fine edition to the collection of any enthusiast for quality French champagne, and an ideal champagne for events both formal and informal.
NV Grand Cru Champagne - Eric Rodez is a fine champagne that is made up of 50 percent Chardonnay and 50 percent Pinot Noir, with 25 percent barrel aged barrel wine added to the mixture. Up to 45 percent of the wines that are used to make this champagne are reserve wines. This fine champagne combines the floral taste of Chardonnay with the mineral and earthy body of Pinot Noir. The result of this production process is a champagne with cherry, red currant, and citrus flavors with medium acidity, a floral taste, and a hint of brioche that comes from the oak barrels in which it is produced. It is excellent with seafood, cheese, hors d'oeuvres and also with Foie Gras.
This champagne is the latest offering by the Rodez family, which has been in the champagne business for the last eight generations. It is produced within the Champagne region of France in Ambonnay, which is a Provencal town that originated around a Roman villa that includes a church built by the knights templar. Ambonnay has the designation of a Grand Cru village for the quality of the champagne that is produced there. For the last eight generations, the Rodez family has been producing champagne here, and they currently grow 60 different vines. Although their winery is not considered to be certified organic they do engage in many organic practices. Prior to returning to the family business, Eric Rodez worked at Domaine Rapet Pere & Fils. His passion for blending to produce high quality champagne has produced NV Grand Cru Champagne as his latest offering.
NV Grand Cru Champagne - Eric Rodez is available for sale by Classe Wines. The cost per bottle is $51.95, while a six bottle half case costs $305.47, and a twelve bottle case costs $604.70. To order, visit classewines.com or call 1-800-793-9141 today.
Contact
Georgiy Kharchenko
1-800-793-9141