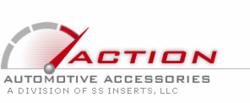 Action Automotive's new line of Ford Mustang Billet Grilles, Mustang Aftermarket parts, Dodge Charger accessories, Dodge Challenger accessories, and Corvette accessories are available exclusively on their website https://www.actionautoaccessories.com.
Scottsdale, AZ (PRWEB) July 01, 2013
Action Auto, the leader in Mustang Billet grilles, Ford Mustang parts, Dodge Charger and Dodge Challenger accessories, Corvette accessories, and Camaro accessories, is now carrying a full line of aftermarket parts and accessories that can only be found on their website. The new line of exclusive parts and accessories including Camaro Retro Body Kits, Ford Raptor engine fluid caps, and custom brake caliper covers for Dodge Chargers and Dodge Challengers are made by American Car Craft and available exclusively at Action Automotive.
Action Automotive carries the highest quality of aftermarket auto parts and accessories available anywhere. When customers purchase from Action Auto they can trust that they're going to receive super high quality parts and accessories at a very reasonable price.
Action Auto's exclusive new line of muscle car accessories includes Mustang Billet grilles and many Corvette parts, such as polished hood buttons, lip spoilers, header plates, which are perforated for reverse hoods, Retro USA front bumpers, and hard to find items like custom caliper covers that greatly enhance wheel appearance and keep rims cleaner by minimizing brake dust. Action Automotive also carries a large selection of Ford Mustang aftermarket parts.
Customer service is a priority at Action Auto Action Automotive and the Scottsdale-based supplier takes pride in being an industry leader that specializes in providing ultra high quality Ford Mustang Billet Grilles, Corvette parts, Dodge Challenger Accessories, and Dodge Charger Accessories at the most affordable prices anywhere.
Action Automotive not only offers one of the largest selections of high quality aftermarket parts and accessories but they also offer free shipping on every single order placed online. Their entire inventory from wheels and bumpers to license plate frames and chrome radio buttons is available for free shipping anywhere in the Continental United States when ordered online.
Action Auto has everything customers need to transform their cars from average run of the mill stock cars into truly unique custom head turners that truly stand out from the crowd. Action Auto's new line of aftermarket parts and accessories can be found exclusively on the website at http://www.actionautoaccessories.com.