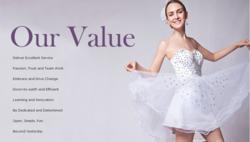 (PRWEB) July 01, 2013
Many people think that it is not a smart decision to buy a homecoming dress at a high price. With this in mind, Dresses1000, a professional online store for women's dresses, has recently announced its new collection of "homecoming dresses under 100."
In the new collection, each dress is available at a price of max. $100. As other outfits, Dresses1000's homecoming dresses feature graceful looks and delicate craftsmanship. All of the dresses offered at Dresses1000.com are priced far below retail prices at a local dress shop. Orders can be done online through chat or email. At Dresses1000.com, it is easy to find these cheap homecoming dresses.
"These trendy vintage evening dresses are specially designed for the summer 2013. We want to ensure a memorable evening for every girl in this season. These outfits come in a huge variety of styles, and it's easy to find one that flatters your figure in just the right way," explains Sherri Wang, CEO of Dresses1000.com. "We are regarded by many clients as one of the top brands of prom dresses and other special-occasion dresses."
Besides, the company has a selection of vintage dresses, like vintage prom dresses, vintage evening dresses, and more. "Vintage style" usually refers to clothing that imitates the style of a previous era. Dresses1000's vintage dresses consists of many print dresses and elegant dresses.
About Dresses1000
Dresses1000 has been providing a wide range of women's fashions for its clients for over 5 years. Its products include homecoming dresses under 100, bridesmaid dresses, sexy cocktail dresses and more). Its mission is to 'make ladies more attractive' by offering stylish and high-quality women's dresses to each woman. The company is trying to offer their customers more choices with affordable prices, and they accept customer's own designs as well.
For more information, please visit: http://www.dresses1000.com/.