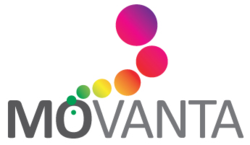 What I love about this is how easy it is for me to thank my customers for their loyalty. What's more my chef can also let them know about today's specials when they're close by one of my restaurants
London, UK (PRWEB UK) 2 July 2013
Movanta, a leader in innovative mobile marketing solutions, and ICRTouch, creators of the award-winning TouchPoint POS software, have today launched a new way of delivering loyalty using consumers' mobile phones that eliminates the problems of traditional card-based schemes.
Many people have a love-hate relationship with the loyalty schemes offered by restaurants and retailers. Consumers are attracted by the discounted or free product when they have saved up enough points. However people resent being required to carry yet another loyalty card in their purse or wallet.
ICRTouch have enhanced their TouchPoint software to print unique codes on every receipt. These codes, along with the transaction information, are uploaded to Movanta's servers. Movanta's bespoke apps are then used by consumers to scan the codes on receipts enabling consumer to be rewarded based on their level of spend.
Houman Meshkati, owner of the Amici chain of restaurants in South London, is one of the first to use the new loyalty system. Houman comments: "What I love about this is how easy it is for me to thank my customers for their loyalty. What's more my chef can also let them know about today's specials when they're close by one of my restaurants."
Ray Dogra, CEO of Movanta, added, "This is a great example of delivering real business benefit using mobile phones. The link with ICRTouch means any business can easily benefit from Mobile phone-based loyalty."
James Johnson, CTO of ICRTouch, concluded, "ICRTouch continues to remain at the forefront of POS software. Linking our award-winning TouchPoint software with Movanta's mobile solution was a natural fit. Now any ICRTouch Reseller can offer a mobile solution to their clients."
Restaurants and retailers interested in finding out more should get in touch at info(at)movanta(dot)com.
Movanta is a UK based business helping retailers use mobile apps and data analytics for better customer experiences and business results. Movanta's built-for-mobile technology platform gives real-world retailers the tools to compete and win in the mobile era. http://www.movanta.com
ICRTouch is the UK's leading supplier of independent EPOS software. They produce one of the most feature rich and reliable touchscreen point of sale software products available which has been developed on the base of more than 30 years knowledge and experience. They have a large portfolio of products including wireless waitressing, customer loyalty systems, online table booking and many more. ICRTouch has more than 300 resellers throughout the UK activating 400 to 500 new touchscreen terminals a month http://www.icrtouch.com