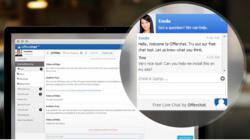 New York, NY (PRWEB) July 02, 2013
Translation services online are mostly utilized for translating documents, web copies or a whole website to a language specified by their clients. With websites expanding their market reach to different countries, translation services have grown in demand.
Offerchat.com is aware of the demand, thus, marketing for the chat tool has also expanded to include translation services to provide translators other means of income as live chat agents via the Offerchat live chat tool for ecommerce websites requiring their translation skills.
What live chat can do for ecommerce website with regards to translation services:

Cost-saving from website content translation overhaul of small-sized business
With live chat, cash-strapped business websites that want to cater to foreign clients can hire multi-lingual live chat agents instead of translating website to 2-3 select foreign languages, which can cost thousands of dollars per language.
Widen target market scope to non-English speaking countries
With the availability of a live chat tool like Offerchat, website owners can open services to non-English speakers as translators as live chat agents can handle foreign clients' chats as they go.
Real-time communication with foreign clients with inquiries to products/services
Real-time customer communication is possible now with live chat and apparently more useful for websites embracing foreign market. When before inquiries made by foreign clients need to be sent via email to give enough time for translation, now customer support response will be a lot quicker as clients can just click to chat and get response in a few seconds through the translators assigned behind the chatter's seat.
With the above-stated benefits of an online live chat tool, translation services can expand the scope of their services outsourcing multilingual live chat customer service catering to their foreign clients.
Offerchat is a simple sales and customer service tool for websites requiring on download or install. Just create an account and add the live chat support script to your website.
For more information on how live chat can help eCommerce websites, visit the official Offerchat blog.
About
Offerchat live chat is for online retailers, sellers and software as a service companies who must convert more visitors to actual buyers and users. It is a new way of handling live chat by providing not only a powerful free tool, but also the train staff to man the chat for you. Unlike other live chat companies, Offerchat has well trained live chat agents to staff your chat to help you close more sales.
###