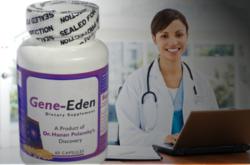 We recommend Gene-Eden-VIR to those who experienced VZV resistance to Acyclovir. Gene-Eden-VIR is a natural antiviral that strengthens the immune system, and may help shorten recovery. – Mike Evans, polyDNA
Rochester, NY (PRWEB) July 01, 2013
The Varicella Zoster Virus (VZV), which causes herpes zoster (also known as Shingles), is becoming resistant to the anti-herpes drug Acyclovir. This is according to a study published in the Journal of Clinical Virology on June 4th, 2013. (2) Acyclovir resistance is especially strong in herpes zoster patients with weak immune systems.
"Valacyclovir (VACV), the oral prodrug of acyclovir (ACV), has been extensively used as the first-line drug (against VZV and HSV) because of its high antiviral efficacy….However, resistance to ACV… may impair drug efficacy and patient recovery." (2)
"Clinicians should monitor local, state, and national recommendations … to determine the most appropriate treatment practices and receive updates on antiviral resistance profiles of the circulating viruses." – CDC (3)
"This resistance creates a need for a new herpes remedy that boosts the immune system and that is effective against VZV. We recommend Gene-Eden-VIR to those who experienced VZV resistance to Acyclovir. Gene-Eden-VIR is a natural antiviral that strengthens the immune system, and may help shorten recovery." – Mike Evans, polyDNA
Remember that "The key to your health is to reduce the level of the latent viruses in your body to harmless levels." - Dr. Hanan Polansky
In a post marketing clinical study, Gene-Eden-VIR was shown to be safe and highly effective against the latent herpes zoster virus. Over 70% of Gene-Eden-VIR users reported a reduction in viral symptoms (4)
Each capsule of Gene-Eden-VIR contains a patented formula of five all natural ingredients including selenium, camellia sinesis extract, quercetin, cinnamomum extract, and licorice extract. In addition, each bottle is GMP Certified. (5)
To learn more about Gene-Eden-VIR, the only product on the market today that helps the body target the latent herpes zoster virus and that is scientifically backed by published material, visit http://www.gene-eden-kill-virus.com.
References:
(1) http://www.ncbi.nlm.nih.gov/pubmed/23596085
(2) http://www.sciencedirect.com/science/article/pii/S1386653213001650
(3) http://www.ncbi.nlm.nih.gov/pubmed/23596085
(4) http://www.cbcd.net/Gene-Eden-VIR-Clinical-Study.php
(5) http://www.gene-eden-kill-virus.com/studies.php
polyDNA is a biotechnology company that develops dietary supplements using the unique scientific method developed by Dr. Hanan Polansky, which is based on Computer Intuition.
In addition to his unique scientific method, Dr. Polansky published the highly acclaimed scientific discovery called Microcompetition with Foreign DNA.
The discovery explains how foreign DNA fragments and specifically DNA of latent viruses cause most major diseases. polyDNA developed Gene-Eden-VIR, an antiviral natural remedy that helps the immune system kill latent viruses.