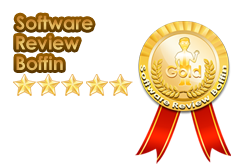 The software were exhaustively assessed on attributes such as efficiency, quality, affordability and range of features.
New York City, NY (PRWEB) July 06, 2013
Music making software are no longer the exclusively for music producers and media artists. The ever-growing expansion of technology is what makes possible for people to have access to reliable, professional and above all affordable music editing software. Software review Boffin, announced its latest top choices of music programs in a review of music making software. The Boffin reviewers having evaluated established and new music making software, published their top ranking software with VinylStudio being Boffin reviewers' favorite. The software were exhaustively assessed on attributes such as efficiency, quality, affordability and range of features to determine which music making software are worthy of Boffin's gold, silver and bronze medals of excellence.
VinylStudio software is for the Boffin team the best digitizer to date, as it provides a well-structured and efficient digitizing of audio tapes, records and other, non-digital music files. However, what impressed the Boffin reviewers was neither the efficiency, nor its exceptional design, but its quality of copying or recording audio files in the most effortless manner possible. A few mouse clicks would suffice in giving the user high-quality audio formats, the Boffin reviewers emphasized.
When it comes to software efficiency, VinylStudio effortlessly stood out of its competition, as no other software could so confidently provide high quality and reliable music making features. Working with VinylStudio software is not user-friendly and rather enjoyable, the Boffin reviewers noted. Automated processes such as list tracking make music mixing and editing a rather attractive activity. With matchless quality of results and unfailing reliability, the Boffin reviewers chose VinylStudio as the music making software of superlative competence. Having a software that caters to the music making needs of many users is not a frequent incident, and Boffin sought to properly reward this attribute unique to VinylStudio Software, awarding it the no.1 place.
Aware of the ever-changing scene of software and technology, the Boffin reviewers regularly reassess their top three software. To ensure reliability and relevancy of the reviews, the team of reviewers evaluates the software on a regular basis to ensure the accuracy of the reviews. It has also been noted that the actual differences in attributes and tools between the top three software were rather trivial and it is very likely that subsequent reviews will invert the existing rankings.
Software Review Boffin reviews the latest technological products in demand on the market right now. They provide expert, honest and straightforward reviews so customers can objectively measure if a product, especially software is well worth it before making their purchase.
To learn more about Software Review Boffin, visit http://www.softwarereviewboffin.com