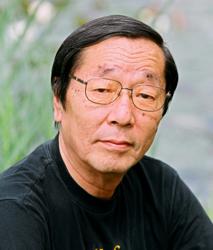 What we imagine in our minds becomes our world.
Duluth, MN (PRWEB) July 01, 2013
Twin Ports Bridge Festival, in Duluth Minnesota, Presents "LOVE" as the 2013 festival theme and with featured international speaker, Dr. Masaru Emoto, and guest speakers; Gwendolyn Hallsmith, Stephen Dinan, and Chris Berry. The United Nations proclaimed the year 2013 as the International Year of Water, which urges citizens of the world to take responsibility to learn about water. It is our intention is to unite in our shared humanity, appreciation of Lake Superior (and all water) and in our commitment to social, economic and environmental sustainability.
Dr. Masaru Emoto is coming to Duluth from Japan, in conjunction with Twin Ports Bridge Festival, to present the Hidden Messages in Water on July 5th and will kick-off the Twin Ports Bridge Festival with a Water Celebration Ceremony! Saturday, July 6th, 10-10:45 am at Bayfront Park Festival Tickets for full day of fun (10am -10:30 pm) $25 now, $35 after 5/31 $5 for kids 12-under, $10 after 5/31 $50 for families, $65 after 5/31
Twin Ports Bridge Festival Guest Speakers:
Dr. Masaru Emoto from Tokyo, Japan - Dr. Emoto will present Hidden Messages in Water at the Depot Great Hall Friday, July 5th. Doors open at 5:30 pm for touring the Water Works exhibit at DAI. Presentation begins 6:30 pm. Dr. Emoto will participate in a water ceremony at 9:45 am in Bayfront Festival Park on Saturday, July 6th. Dr. Emoto is an internationally renowned researcher who has gained worldwide acclaim by showing how water is deeply connected to our individual and collective consciousness. By photographing water molecules during various experiments he was able to capture images that demonstrate that our thoughts and words have a direct effect on the structure of water which impacts our lives and the world around us. His message is simple, profound, and far-reaching. His photographs can be seen in Messages from Water Vols. I, II, and III (over one million sold internationally in twenty languages) and in The Hidden Messages in Water (over 500,000 copies in print in eleven languages), The True Power of Water, The Secret Life of Water and the film What the Bleep Do We Know. For more information on Dr. Emoto's U.S. Tour this July please visit http://www.emotoevents.com or http://www.masaru-emoto.net
Gwendolyn Hallsmith from Montpellier, Vermont. Gwendolyn will introduce the Earth Charter at the festival at 6:45 pm. Gwendolyn Hallsmith is the Director of Planning and Community Development for Montpelier, Vermont. She has over 25 years of experience working with municipal, regional, and state government in the United States and internationally. Gwen was the founder and Executive Director of Global Community Initiatives (GCI) for 5 years, She has served as a City Manager, a Regional Planning Director, Senior Planner for the Massachusetts Executive Office of Energy Resources, the Deputy Secretary of the Vermont Agency of Natural Resources, and as an international specialist on sustainable community development. Her international experience has included work with the United Nations Environmental Program, the United Nations Development Program, the Institute for Sustainable Communities, the International City/County Management Association, the Academy for Educational Development, and Earth Charter International.
Stephen Dinan is coming home from Petaluma, CA - Stephen will share Vision 2020 with us and what's happening in the Shift Movement at 6:30 pm. Stephen Dinan is the CEO of The Shift Network, which serves 250,000 worldwide, and a member of the prestigious Transformational Leadership Council and Evolutionary Leaders groups. As the former Director of Membership and Marketing at the Institute of Noetic Sciences, he was the driving force behind the Shift in Action program. He is also the author of Radical Spirit (New World Library), and a forthcoming book Sacred America, Sacred World. Stephen directed and helped to create the Esalen Institute's Center for Theory & Research, a think tank for leading scholars, researchers, and teachers to explore human potential frontiers.
Chris Berry from Puna, Hawaii - Chris Berry will play the Mbira at Dr. Emoto's presentation on July 5th. He will also participate in the water ceremony on Saturday morning and co-lead a sonic meditation at 8:30 pm. It has been said that Chris Berry has the most interesting life story of any living musician. At the age of 19, Chris traveled to Africa on what was expected to be a short trip, and ended up spending the next 10 years living in the ghettos of Zimbabwe with the Shona tribe and immersing himself in music and culture. Chris became a master at several African instruments (especially the mbira) and the tribe considered Chris a chosen one who was an African elder born into a white man's body for the purpose of uniting the people of the world together into one race. Inspired by this, Chris started a band with several African musicians and named it "Panjea" (referencing the land mass Pangea when the continents were all united, Panjea represents the uniting of the people into one race). This has been the main mission of Chris' life, music, and his non-profit organization "The Panjea Foundation" ever since. Chris received a Grammy for a song written for "Paul Winter" and has toured and/or done studio collaborations with the likes of Bill Kreutzmann (Grateful Dead), Michael Kang (String Cheese Incident), Steve Kimock, The Brazilian Girls, Eminem, and many more. Chris released his latest of 13 albums, "King of Me" in June of 2013.
The mission of the Twin Ports Bridge Festival is to celebrate and unite the community under a dynamic entertainment experience.
For Tickets Visit twinportsbridgefestival.com
For more information or email laugh(at)laughingstockdesign(dot)com or erin(at)consciouslivingnow(dot)org