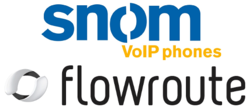 Our ongoing commitment to interoperability with innovative VoIP service providers like Flowroute is a win-win for customers looking for flexible, cost-effective, reliable voice service.
Woburn, MA (PRWEB) July 02, 2013
snom technology Inc., a leading developer of desktop IP phones and communications solutions, announced today that its phones are interoperable with Internet telephone service provided by Flowroute.
snom's 7xx series, 8xx series IP desktop phones and the M9 cordless phone have been rigorously tested and have been certified as interoperable with Flowroute's carrier-grade wholesale prepaid VoIP service. Flowroute offers cost-effective high-quality SIP trunking and direct inward dialing (DIDs). The service is designed for flexibility, scaling from the smallest businesses up to very large enterprise.
Flowroute, founded in 2007, maintains interconnection agreements with top-tier carriers worldwide, and routes more than 500 million minutes of voice traffic annually.
"We are very pleased that our IP phones are now interoperable with Flowroute's VoIP service," said Mike Storella, snom's chief operating officer. "Our ongoing commitment to interoperability with innovative VoIP service providers like Flowroute is a win-win for customers looking for flexible, cost-effective, reliable voice service."
Flowroute separates signaling streams and sends voice packets directly to its gateway through its international network of partners, so customers experience no latency. By eliminating points of failure Flowroute lets customers enjoy high quality service and avoid the problems inherent in circuit switched networks.
"It's important that our customers are confident the equipment they choose is compatible with the service they love," said Sean Hsieh, Flowroute founder and chief marketing officer. "We were happy to discover the snom hardware we tested complies with the SIP standards we hold so high."
snom's VoIP phones include snom's eighth-generation Session Initiation Protocol (SIP) firmware, which enables interoperability with a wide range of SIP-based PBXs and softswitches used in small and large enterprises worldwide.
Flowroute is the latest in a growing list of partners snom is adding to its interoperability roster. With more than thirty-five partners and climbing, snom is continually adding VoIP service providers and IP-PBX vendors to the stable of companies with which its IP phones interoperate.
The snom 7xx series features three models of affordable, full-featured IP phones: the snom 760 desktop phone for knowledge workers features a high resolution color display, superior wideband high definition audio and PBX-style keys; the snom 720 multipurpose manager-level desktop phone offers advanced telephony features with 18 programmable keys and 12 SIP phone lines; the 710 is a general purpose office phone for the cubicle workforce.
It features five programmable keys and supports up to four SIP lines. The 821 model has a color display, integrated 1-gigabit switch, support for 5-way conferencing and can handle up to 12 calls simultaneously. The 870, for senior managers, includes all features plus a touch-screen color display and call-swapping capability.
To learn more about snom's channel activities in the Americas, go to http://www.snomchannel.com; follow us on Twitter; like us on Facebook; join our LinkedIn group; or add us on Google+.
About snom
Founded in 1996, snom technology AG develops and manufactures VoIP telephones and related equipment based on the IETF open standard, SIP (Session Initiation Protocol). Recognized for its high-quality, customizable and cost-effective business phones, snom is also differentiated by the company's history in the VoIP industry and its dedication to high security standards. All of snom's products are designed to be fully interoperable with leading communications equipment vendors. snom customers and partners benefit from the interoperability and flexibility that snom telephones offer, including plug-and-play integration and universal compatibility with standards-based SIP VoIP platforms, applications or services. In September 2011, the snom 300 and snom 821 became the first and only SIP phones to achieve "Qualified for Microsoft Lync" status – Microsoft's top distinction for fully tested interoperability and compatibility with Microsoft Lync. snom's leadership continues today, based on its six-phone UC edition portfolio – the industry's largest and most extensive family of standards-based business phones qualified for Microsoft Lync enterprise environments.
snom technology AG is headquartered in Berlin, Germany, with offices in Italy, France, the United Kingdom and the U.S. that support a global network of channel partners in Europe, the Americas, Asia and Africa. For more information, visit http://www.snom.com.
About Flowroute
Flowroute is powering the future of telephone communications. The company develops innovations that provide simplified, agile and direct access to the global telephone network. Flowroute empowers businesses with on-demand capacity, automation tools, and real-time self-serve telephony management. It provides a strong, forward-thinking platform for building modern communications systems that are light, scalable, and automated. Visit Flowroute at http://www.flowroute.com, or connect on LinkedIn or Twitter.
Media Contacts
snom - North America
John Gates
Elevate Communications
+1 (617) 861–3651
john(at)elevatecom(dot)com
Mike Storella
snom technology, Inc.
18 Commerce Way, Suite 6000
Woburn, MA 01801
+1 (781) 569-2044
mike(dot)storella(at)snom(dot)com
snom - Global
Christian Baier
Jason Green
snom technology AG
D-10117 Berlin
Germany
+49-30-39833-106/105
christian(dot)baier(at)snom(dot)com
jason(dot)green(at)snom(dot)com
Flowroute
Caitlin Coomber
858-480-6753
ccoomber(at)comunicano(dot)com
###