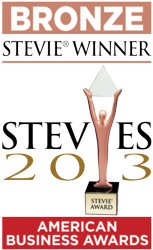 Tampa, FL (PRWEB) July 02, 2013
SkyBridge Resources is announced a Bronze Stevie® Award winner, in the Company of the Year in Business Services category, for The 11th Annual American Business Awards.
Highlighted as the nation's premier business awards program, The American Business Awards features industry leaders from a variety of categories, recognizing outstanding performances in the workplace worldwide. The 2013 Stevie Award winners were selected by more than 320 executives nationwide who participated in the judging process.
"We are honored to be recognized by such a premier business awards program for our successes during this past year," said Randy Bahlow, President of SkyBridge Resources. "It is our mission to be the foremost provider of staffing services and we are proud to be honored for our accomplishments among such a prestigious group of business leaders."
As a multi-million dollar staffing agency, SkyBridge Resources nearly doubled their revenue in 2012. Additionally, they opened a new office in Orlando, Florida and doubled the number of internal hires. A full-service technical staffing company, SkyBridge Resources strengthened their unique business model to include additional training for their experienced recruiters and partnered with a digital marketing agency to restructure their website and to determine an innovative marketing strategy.
"Our success is a direct result of the new strategies that we have implemented," said Bahlow. "We are dedicated to providing the highest level of service in the industry and we will continue to utilize new opportunities to ensure SkyBridge Resources thrives in an ever changing environment."
All organizations operating in the United States are eligible to submit nominations to the American Business Awards – public and private, for-profit and non-profit, large and small. This year more than 3,200 nominations were submitted for consideration in a wide range of categories, including Most Innovative Company of the Year, Management Team of the Year, Best New Product or Service of the Year, Corporate Social Responsibility Program of the Year, and Executive of the Year, among others.
"This year's American Business Awards was outsized in every way," said Michael Gallagher, Stevie Awards founder and president. "More entries and more judges than ever before, and I'd have to say the most impressive collection of nominations we've ever received. We congratulate all of this year's Stevie winners for their outstanding work."
Details about The American Business Awards and the lists of Stevie Award winners who were announced are available at http://www.StevieAwards.com/ABA.
About SkyBridge Resources
SkyBridge Resources is a premier provider of staffing solutions including permanent placement, temporary, contract and recruiting services. Established in 2005, SkyBridge Resources is a full-service staffing agency that aggressively develops long lasting candidate and business relationships. With strategic offices in Florida, Georgia and Kentucky, SkyBridge Resources has an ever-growing recruitment network that is ready to best serve their clients, providing the highest level of service in the industry. Learn more about SkyBridge Resources at http://www.SkyBridgeResources.com.
About the Stevie Awards
Stevie Awards are conferred in four programs: The American Business Awards, The International Business Awards, the Stevie Awards for Women in Business, and the Stevie Awards for Sales & Customer Service. A fifth program, the Asia-Pacific Stevie Awards, will debut this year. Honoring organizations of all types and sizes and the people behind them, the Stevies recognize outstanding performances in the workplace worldwide. Learn more about the Stevie Awards at http://www.StevieAwards.com.