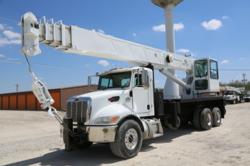 Colona, IL (PRWEB) July 01, 2013
Used Bucket Trucks Online.com presents its new emphasis on marketing and customer service. The staff is dedicated to matching customers with the bucket trucks they need at their desired price point. Their online service enables consumers to find the thoroughly inspected and reconditioned vehicles they've been searching for by using the Trucks Locator feature on their site.
Brands carried by Used Bucket Trucks Online.com include Altec, Hi-Ranger, Lift-All, Terex, Versalift, Duralift, MTI, Aerial Lift of Connecticut and Prentice. The variety of models of bucket trucks available has helped make the company one of the fastest growing dealers of this kind and has enabled them to match more customers with the trucks they need.
The business also provides financing opportunities from various lenders. Inquiries for this financing can also be made online. The company works with potential customers to create flexible payment plans that work with their budgets. All financial decisions are made quickly and every effort is made to accommodate the buyer.
In addition to bucket trucks, the company sells a selection of other rare vehicles, including boom trucks, forestry trucks, and grapple trucks. They offer a 30 day or 3,000 mile guarantee on all vehicle purchases and work with the customers to resolve any concerns.