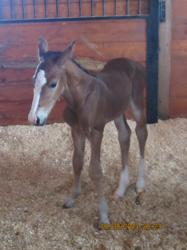 Norwood, North Carolina (PRWEB) July 02, 2013
Margaret, The Fork's Irish Sport Horse, gave birth to Fergal, a beautiful baby boy, around 1:30 am on July 1, 2013. Fergal is an Irish Sport x Holsteiner with an impeccable pedigree. Riverman, his father, is a grandson of Rebel Z, the full brother of Olympic medalists Ratina Zand Renomee Z. Beyond Fergal, Riverman's descendants also include Rebecca X, a member of the Italian Nation's Cup Team and two of the top 20 at the 2009 Fair Hill CCI***. Many eventing enthusiasts "look to Riverman for movement, , boldness cross-country, and excellent scope" (Hill Top Farm, Inc.). Fergal's mother Margaret, also has an exceptional pedigree. Margaret is the great Granddaughter of Pride of Shaunlara and Mrs. Thatcher, and daughter of Suma's Poll Tax (RID Greg) and Reputed Testimony (JC-TB).
Fergal has similar markings to that of his mother as a foal. His chestnut coloring and white facial stripe make for a handsome young boy. He is already showing signs of becoming a substantial athlete with strong legs, of course it helps to come from parents who are fantastic movers. For now, Fergal's job will be to eat, grow, be a baby and hopefully not give his mom too much trouble!
Keep updated on Fergal's adventures of discovering life at The Fork by following us on our Facebook and Twitter pages.