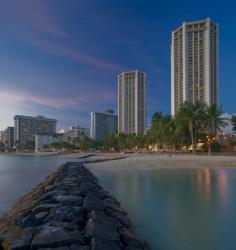 Kou means 'yours' in Hawaiian. The Kou Ballroom is intended to make guests feel like the space is truly their own during the time they spend in it
Honolulu, HI (PRWEB) July 02, 2013
Hyatt Regency Waikiki Beach Resort and Spa announces a $2 million investment of a 3,087 square foot meetings and events venue at the Waikiki hotel which will be unveiled this fall. The Kou Ballroom, slated to be completed in early September 2013, will feature a Lutron intelligent lighting system, Sharp flat screen television, Creston touch screens and keypads, and a Sony projector, positioning the ballroom as an ideal location to hold weddings and events on Oahu.
"Kou means 'yours' in Hawaiian. The Kou Ballroom is intended to make guests feel like the space is truly their own during the time they spend in it," notes Catherine Johns, Director of Catering and Convention Services for Hyatt Regency Waikiki Beach. "Our mission is to provide event planners and attendees with a sense of authentic urban aloha. We've created a 'home away from home' for them to enjoy, complete with state of the art technology and exquisite design."
Waikiki's Newest Wedding & Event Space
The ballroom will feature distinct design details from architecture firm Seifert Murphy. Elements of coral stone and porcelain tile will accent the ballroom's custom-designed carpet, stone-topped conference table, sculptural wall art, and wood finish, creating a stylish atmosphere for impressive meetings and events while still providing authentic Hawaiian hospitality.
Meeting planners utilizing the ballroom will also be given the opportunity to enjoy Hyatt Regency Waikiki Beach's sustainably-focused food and beverage program featuring "Food: Thoughtfully Sourced, Carefully Served." Menu items adhering to this philosophy are created by Executive Chef Sven Ullrich to feature locally sourced ingredients and inspired combinations, ensuring offerings are good for guests, good for the community, and good for the planet.
A Special Package for Waikiki Weddings
Hawaii has long been a place for romantic weddings and elopements, and, in celebration of the new ballroom, the resort has launched a new package dubbed "Too in Love to Wait." This wedding special allows guests to choose from a farm-to-table menu for their big day as well as seven incredible wedding add-on incentives, including enough Hyatt Passport points to spend a honeymoon at nearly any Hyatt hotel. This offer is available to couples with a minimum $10,000 food and beverage spend who book and hold their wedding before December 31, 2013. Details are available by calling 808.237.6230.
For more information about Hyatt Regency Waikiki Beach, please contact the resort by phone at 808.923.1234.
###
About Hyatt Regency Waikiki Beach Resort and Spa
Balanced between the idyllic beauty of the legendary Waikiki Beach and the dynamic city center, Hyatt Regency Waikiki Beach Resort and Spa is a vibrant destination combining relaxation and adventure with true Hawaiian hospitality. Each of the 1,230 guestrooms, including 19 suites, offers Hawaiian elegance and private lanai with panoramic beach, mountain, and city views. With an unrivaled location just steps from world-famous waves, the resort affords effortless exploration of the island's attractions, from Diamond Head Crater, Honolulu Zoo, and Waikiki Aquarium, to world-class shopping, sophisticated dining and expert surfing lessons. Offering endless amenities including luxurious treatments at the 10,000 square foot Na Ho'ola Spa, StayFit Fitness Center, freshwater swimming pool overlooking Waikiki Beach, fresh regional seafood dishes with upscale American cuisine at Shor American Seafood Restaurant, Pacific Rim at Japengo, tropical cocktails at SWIM, and more than 60 boutiques on site. Hyatt Regency Waikiki promises Hawaiian-style excitement paired with the warmth of authentic Aloha spirit.
For more information regarding Hyatt Regency Waikiki Beach Resort and Spa, please contact the resort by phone at (808) 923-1234, or visit the resort website at: waikiki.hyatt.com.