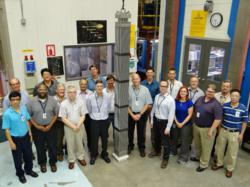 "Completing the test fuel assemblies is a significant milestone in developing the Westinghouse SMR and moves it closer to being the first SMR to the global market."
Pittsburgh, Pa (PRWEB) July 01, 2013
Westinghouse Electric Company today announced that it has completed the manufacturing and assembly of two nuclear fuel test assemblies for the Westinghouse Small Modular Reactor (SMR) at its Columbia Fuel Fabrication Facility in Columbia, South Carolina.
Final preparations are now being performed on the two fuel assemblies before hydraulic testing begins, where SMR reactor operation will be simulated to confirm acceptable performance of the fuel design. Hydraulic testing of the fuel designs will continue through August 2013.
Additionally, Westinghouse submitted its proposal in response to the Department of Energy (DOE) Funding Opportunity Announcement (FOA) to accelerate the deployment of SMR technology. The DOE FOA seeks to facilitate the development of innovative SMR designs that have the potential to address the nation's economic, environmental and energy security goals while enhancing safety, operations, and performance relative to currently certified designs.
"Completing the test fuel assemblies is a significant milestone in developing the Westinghouse SMR and moves it closer to being the first SMR to the global market," said Westinghouse Chief Technology Officer and Senior Vice President Dr. Kate Jackson. "Our SMR represents the future in energy technology offering an affordable, safe and secure source of zero-carbon energy. Our experience, capabilities and licensing expertise will help to ensure rapid deployment of innovative operating plants that will put more Americans to work. In terms of manufacturing SMR fuel alone, a successfully deployed Westinghouse SMR could add 150 jobs with an estimated $125 million of capital investment to the Columbia site."
The Westinghouse SMR is a 225 MWe integral pressurized water reactor (PWR), with all primary components located inside of the reactor vessel. It utilizes passive safety systems and proven components, as well as modular construction techniques – all realized and already licensed in the nuclear industry-leading AP1000® reactor – to achieve the highest level of safety and reduced number of components required. Westinghouse believes that this proven approach will provide licensing, construction and operational certainty that no other SMR supplier can match with competitive economics.
Westinghouse Electric Company, a group company of Toshiba Corporation (TKY:6502), is the world's pioneering nuclear energy company and is a leading supplier of nuclear plant products and technologies to utilities throughout the world. Westinghouse supplied the world's first pressurized water reactor in 1957 in Shippingport, Pa. Today, Westinghouse technology is the basis for approximately one-half of the world's operating nuclear plants, including more than 50 percent of those in Europe.
###