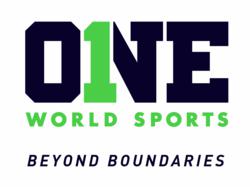 "We are thrilled be programming Chelsea and Bayern Munich on ONE World Sports," said Alexander "Sandy" Brown, president and CEO of ONE World Sports. "
New York, NY (PRWEB) July 01, 2013
ONE World Sports today announced a major programming coup, securing season-long rights to present in high-definition soccer matches of German team FC Bayern Munich and English powerhouse Chelsea FC with extended analysis by the clubs' in-house experts.
ONE World Sports, which offers coverage of world-class sporting events from around the globe, will present three-hour blocks of delayed gamecasts accompanied by exclusive interviews with leading players and team managers.
Bayern Munich plays in the Bundesliga—Germany's rabidly supported top soccer division. This year, the club topped the Bundesliga and went on to win the Champions League, becoming European Champions. Bayern Munich historically is Germany's most successful soccer club with five Champions League, 23 League titles and 16 League cups to their name.
Chelsea plays in the Barclays Premier League—often touted as the most exciting soccer league on the planet. Last season, Chelsea finished third in the Premier League and will play in the Champions League again this season. The team regularly tours the U.S. and elsewhere during the off-season to keep in touch with its global following.
The Bayern Munich and Chelsea shows will hit the network in mid-August, when league play resumes, and also will feature games from the teams' respective Champions League and cup campaigns. ONE World Sports has acquired all North American rights to the programming and will include it in a soon-to-be-debuted mobile app.
"We are thrilled be programming Chelsea and Bayern Munich on ONE World Sports," said Alexander "Sandy" Brown, president and CEO of ONE World Sports. "By having clubs of this stature on our air, it reinforces our position as a leading network in delivering the best in international soccer."
The new programming represents an additional 250 hours of European soccer on ONE World Sports, representing a boost of 10%. ONE World Sports also will continue to provide robust coverage of soccer from top leagues in the Asia/Pacific, the new, "reboot" season of the legendary New York Cosmos, starting Aug. 3, along with programming from other top sports worldwide.
The addition of such attractive European sports programming is in line with ONE World Sports commitment to presenting top action from around the world. A recent study by Frank N. Magid Associates underscores the appeal of international sports on television, with 56% of 18- to 34-year-olds overall and 63% of men in the same age group expressing interest in tuning into ONE World Sports' programming.
About ONE World Sports
ONE World Sports is an English-language network delivering exclusive world-class sports live from around the globe. ONE World Sports fulfills fans' passion for premier match-ups of their favorite sports with more than 2,400 hours of unduplicated sports programming annually. Programming includes live and same-day action of leagues and competitions in soccer, basketball, baseball, golf, table tennis and badminton. The network is available on DISH Network, Cablevision's Optimum TV and Mediacom Communications.
ONE World Sports is headquartered in New York. Corporate parent ONE Media Corp. also owns ONE CONNXT, a global HD/SD broadcast video transport services provider; America ONE Television, a general entertainment and sports broadcast network; and America ONE Sports, a leading provider of live broadband sports.
For more info, see http://www.oneworldsports.com
# # #
For more information, contact:
Carl DiOrio
Bob Gold & Associates
p. 310-320-2010; carl(at)bobgoldpr(dot)com