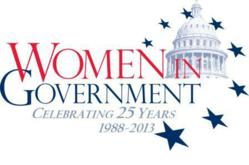 Boston, MA (PRWEB) July 08, 2013
Women In Government is pleased to announce its 14th Annual Southern and 15th Annual Eastern Regional Conferences which will take place on July 18-20 in Boston, Massachusetts. The meeting will convene women state legislators throughout both regions to discuss cutting-edge public policy issues.
The three day event will include presentations on environment, energy, economic development, leadership, and quality healthcare. Speakers such as Massachusetts Attorney General Martha Coakley and Congresswoman Nicki Tsongas will be present to engage with attendees in meaningful discussions regarding their work. In recent months Attorney General Martha Coakley has worked on providing resources to victims of the attacks in Boston, and organizing a food drive that provided 282,834 meals to those in need. Congresswoman Nicki Tsongas has championed a variety of issues including access to education, and veteran support. Legislators will have the chance to ask questions and create plans to address these important issues in their states.
Representatives from the following states will be present: Alabama, Arkansas, Colorado, Delaware, Florida, Georgia, Kentucky, Louisiana, Massachusetts, Maryland, Maine, Mississippi, New Hampshire, New Jersey, New York, North Carolina, Pennsylvania, Rhode Island, South Carolina, Tennessee, Vermont, Virginia, and West Virginia.
Women In Government Foundation, Inc. is a non-profit, non-partisan organization of all 1780 female state legislators across the country which provides educational resources, expert forums, networking and leadership opportunities.
Women In Government provides full scholarships to women state legislators only to attend the conferences.
For more information, please visit: http://www.womeningovernment.org/EasternSouthern2013