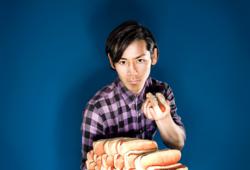 Upper Saddle River, NJ (PRWEB) July 01, 2013
World famous competitive eater Takeru Kobayashi will attempt to set the world record for the most cupcakes eaten in one minute. The demonstration will take place Saturday, July 13 at Uncle Bob's Self Storage located at 211 Rt. 17 South in Upper Saddle River, NJ 07458.
Beginning at 1:00 pm, visitors will be able to meet Kobayashi, take photos with him, and have memorabilia signed. Uncle Bob's will provide the photos to be autographed. The one minute "Man vs. Cupcake" demonstration starts at 2:30 pm.
Kobayashi will attempt the record by eating cupcakes from Sugar Flake Bakery, a local favorite with three locations in New Jersey. Sugar Flake baked goods will also be available for guests to enjoy during the event. Learn more about them at SugarFlakeBakeShop.com.
"This will be a one of a kind event that I know everyone is looking forward to" said Everett Taylor, area manager for Uncle Bob's New Jersey storage facilities. "Kobayashi is a legend, and we can't wait to share the experience with our customers and visitors."
The event is free and open to the public. For further details, please visit unclebobs.com/cupcake.
About Kobayashi
Takeru Kobayashi hails from Nagano, Japan and currently holds multiple records for competitive eating, including four Guinness World records. He won the Nathan's Annual Hot Dog Eating Contest six times in a row and has won other contests for eating bratwursts, pizza, and chicken wings, among others.
About Uncle Bob's Self Storage
Uncle Bob's Self Storage® is owned by Sovran Self Storage, Inc., (NYSE:SSS) a real estate investment trust (REIT) that acquires and manages self storage facilities. Uncle Bob's is one of the largest self storage companies in the United States with more than 450 storage locations spread across 25 states. Uncle Bob's currently has 20 self storage locations in New Jersey.