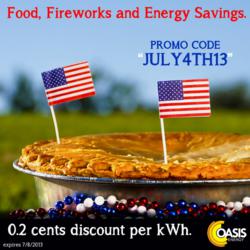 One of the benefits of this discount is the more electricity a customer uses, the more they save. This is especially important as we enter the middle of summer when electricity usage typically hits its peak."
Baltimore, MD (PRWEB) July 01, 2013
Oasis Energy offers new coupon code. Using promotion code "4THJULY13" when enrolling through Oasis Energy's online sign up process will reduce the rate on all of the company's fixed rate offers by 0.2 cents per kWh. This discount works out to a $48 annual savings for consumers who average 2,000 kWh per month, and $24 annual savings for consumers who average 1,000 kWh per month.
This promotion code works for Oasis Energy's fixed rate, residential electricity plans in all of Oasis Energy's active power markets, including New York, Pennsylvania, Maryland and Illinois. The coupon will expire on 7/8/2013.
"One of the benefits of this discount is the more electricity a customer uses, the more they save. This is especially important as we enter the middle of summer when electricity usage typically hits its peak." said Justin Snyder, Oasis Energy's National Brand Manager
Will the discount code work for green energy plans too?
"Yes, the promo code will work with all of Oasis Energy's 100% renewable electricity plans. We're proud that our company is getting a reputation as not only a provider of renewable energy, but a provider of affordable renewable energy. Promotions like our Fourth of July coupon allow even more people the incentive to switch. That's a good thing." said Snyder.
Oasis Energy's discount codes are always announced first on their social media accounts:
Oasis Energy is committed to giving back to the local communities they serve. Participating in community improvement projects, charity efforts, environmental awareness, and energy efficiency campaigns.
About Oasis Energy:
Oasis Energy is a leading supplier of electricity and natural gas to residential and business customers in New York, Pennsylvania, Maryland and Illinois. By offering competitive pricing on fixed and variable rate energy products, Oasis Energy aims to be a low-cost/high-value provider bringing energy cost savings to customers in every market they serve.
For more information on Oasis Energy's electricity and natural gas service visit: https://www.oasisenergy.com