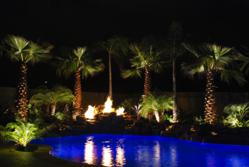 Houston, Texas (PRWEB) July 03, 2013
This month marks the half birthday for Houston based lighting company Light it Right and their big move from a garage apartment into their very own office space. Business has clearly been doing well. With the surplus of new business coming in from Katy, Texas and surrounding Houston area, Light it Right's office required the need for bigger space and more employees.
Light it Right specializes in outdoor lighting for commercial and residential properties. Their lighting exteriors are considered an amenity, and can actually increase the value of residential or commercial properties. They offer complimentary lighting demonstrations to showcase what the property will look like and to make sure the work done meets and exceeds the clients expectations.
What makes their lighting technique unique is that all the lights used for the properties are strategically hidden and placed as to maintain a safety precaution for those walking at night. Not only do they promise their lighting services increase the curb appeal of any home or business, the dark corners and unseen steps are illuminated to warn pedestrians as well as friends and family of hidden dangers. The lights add safety and reduce liability risk if a friend or employee becomes injured on a clients property.
Light it Right focuses on offering curb appeal, safety, and property value to its customers. Their success has brought with it growth and expansion which reflects a positive outlook for their future business.