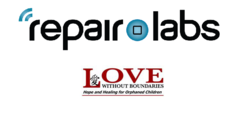 We wanted to make a real difference.. so we decided that we would ask for a little more from our customers, and that we would give a lot more.
Wichita, KS (PRWEB) July 01, 2013
July 1, 2013/ RepairLabs, an online express-ship electronics device center announced its partnership with Love Without Boundaries through its charitable donation program, Operation HERO. RepairLabs began Op:HERO with the mission to provide their customers with an inexpensive and easy and way to make a difference through charity. RepairLabs customers can choose to add a donation for LWB onto their total through the checkout page when they purchase an electronics repair. In a move that alters the previous charitable giving structure they had established with Op:HERO, RepairLabs is asking for a $5 dollar donation instead of one where the customer can choose any amount from $1 to $100. RepairLabs pledges to match each donation at 200% in order to raise the necessary $15 to purchase one coat for a child.
Love Without Boundaries is a charitable organization that serves the needs of children in China who require medical, nutritional, and educational intervention. They serve a large number of impoverished rural China orphanages. They help facilitate adoptions by correcting medical issues that most Chinese families cannot afford to fix. "I learned that the demographics of Chinese orphanages are changing," says DJ Dixon, RepairLabs' Community Director. "Ten years ago, it was healthy baby girls who needed homes. Now, kids with medical issues and birth defects are winding up in orphanages because of stigma, and because their parents can't afford to pay for their medical problems to save them. This charity helps these kids find homes."
"We wanted to be able to make a real difference," says owner Sean Hennessy, "so we decided that we would ask for a little more from our customers, and that we would give a lot more. With our other Op:HERO programs, we match 100% of the customer donations. For this program we double their donation and add it to the customer's gift, so a kid can have a warm coat."
About RepairLabs.com: RepairLabs was founded in 2009 to provide consumers with an excellent and affordable repair shop for Apple devices, and has continually expanded until now, where they cover almost all major mobile electronic devices. Nationally recognized as a leading source in repair knowledge, the RepairLabs blog has consistently delivered cutting-edge analysis and reports and has been sited on countless authority news hubs, such as; TechMeme.com, Forbes.com, and theVerge.com. Learn more at http://www.repairlabs.com/love-without-boundaries or call 1-888-755-1115.
###
DJ Dixon
(316) 869-2865
RepairLabs.com