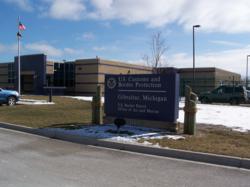 We believe this scalable, highly flexible system model is perfect for rollout to any DHS CBP facility looking for a cost-effective, highly functional, and rapid way to achieve HSPD-12 compliance. Duane Pittman, President, VEI
Bethesda, Maryland (PRWEB) July 01, 2013
Brivo Systems LLC, leader in cloud applications for security management, today announced that working in cooperation with Vector Electric Inc. (VEI), a new integrated, comprehensive security solution, incorporating the Brivo ACS OnSite Aparato, has been designed and installed at the Gibraltar (MI) Border Patrol Station.
The Gibraltar Border Patrol Station is a 17,000-square-foot facility opened in 2008. Located near Detroit, Michigan and just a few miles from the Lake Erie border line with Canada, the Customs and Border Protection (CBP) Gibraltar Station is in a strategically important area as defined by the Department of Homeland Security.
"The Gibraltar Station had a legacy system that covered the entire facility," explained Duane Pittman, President, VEI, "but it was antiquated and it could not communicate with newly-issued PIV cards based on the mandated HSPD-12 standard."
Bill Knapp, Capital Communications Director of Business Development partnered with Vector Electric to develop the system. "Another critical factor is the current government budget situation. We had to be able to design a highly effective system that is HSPD-12 compliant and could incorporate as much of the CBP's legacy equipment investment as possible." The situation required a cohesive team of highly knowledgeable integrator resources.
Pittman and Knapp settled on a Brivo ACS OnSite Aparato system at the core, supported by a video management system. Capital Communications managed the installation of the video components, while VEI oversaw installation of the Brivo access control solution, a re--designed duress system, and an IDS, or Intrusion Detection System.
The overall goal for the new, integrated system was for end users to be able to use their HSPD-12 PIV cards seamlessly throughout the entire facility. In addition, high-level integration of all the various systems was needed to bring the facility to a whole new level of security and system flexibility.
All video and access data is available through the combined interfaces, providing a full view of activity anywhere in the facility through both an access control audit trail and video confirmation. The Brivo and video interfaces reside side-by-side on the desktop. The IDS, duress and PACS systems report data to Brivo; and all video data flows to the video management system dashboard. The operator can mouse from one interface to the other—no wasted key strokes, full system visibility.
The Gibraltar Border Station has 32 cameras deployed, and the Brivo system manages approximately 40 access points. "This is the highest level of integration and seamless operation of this number of systems we've achieved thus far in our many federal security installations," said Pittman. "We believe this scalable, highly flexible system model is perfect for rollout to any DHS CBP facility looking for a cost-effective, highly functional, and rapid way to achieve HSPD-12 compliance. What's more, this system is 'cloud ready,' it's just a matter of when the end user decides to make the transition."
Looking to the future, Knapp added, "Gibraltar is now positioned to implement a comprehensive security platform that integrates the FIPS 140-2 wireless network and the Brivo system's Guard Tour capabilities. Guard Tour utilizes existing Personal Identity Verification (PIV) cards to provide an audit trail of guard visitations to each detention cell and document that detainees are being properly monitored."
For more information on Brivo Systems, contact Brivo toll–free at 1-866-692-7486, option 1 or email sales(at)brivo(dot)com.
About Brivo Systems
Brivo Systems LLC is a SaaS-based security management systems provider for organizations that need to protect and remotely monitor buildings and perimeter entry points. When introduced in 2001, Brivo's Web-hosted physical access control system was a unique solution—after a decade of evolution and innovation, it still is. Brivo's groundbreaking physical access control and video solutions empower organizations by giving administrators real-time device control, including immediate visibility of security events and video in local or remote facilities—anytime, anywhere.
The company's innovative, secure, and open architecture-based products and services enable businesses to protect people and assets, comply with regulations, and improve business operational efficiency. These scalable systems—whether standalone or appliance-based or cloud-based—offer a solution for every type of business. Brivo's security management products are a market-proven fit for commercial office buildings, warehouses, retail stores, manufacturing plants, and sensitive areas, such as server rooms or R&D labs, where real-time control and accountability of entry are important.
With headquarters in Bethesda, MD, Brivo is a wholly-owned subsidiary of The Duchossois Group, a privately held holding company headquartered in Elmhurst, Illinois, which also owns other industry leaders such as AMX, The Chamberlain Group, and Milestone AV Technologies. Duchossois also holds strategic interests in Churchill Downs, Inc., and a number of other diversified businesses.
For Media queries:
Bruce J. Doneff
Public Relations
(843) 476.3022
bruce.doneff(at)brivo(dot)com
For Brivo Systems, please contact:
Rajeev Dubey
Senior Director, Marketing
301.664.5251
rajeev.dubey(at)brivo(dot)com
###