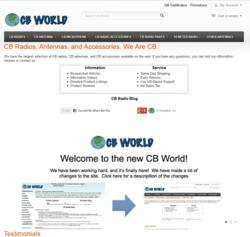 CB World has already received praise from excited customers.
Albany, OR (PRWEB) July 03, 2013
In an effort to maintain an edge in the CB radio marketplace CB World, http://www.wearecb.com, has upgraded their online store with new software. The new software provides a much cleaner, user friendly interface for CB enthusiasts and customers. In addition to the main site upgrade, CB World has upgraded their CB Radio blog to the immensely popular Wordpress platform. CB World sites a renewed interest in CB radios and CB antennas, an increase in traffic, and competition from large online retailers for the need to upgrade the site.
Over the past two decades, the world of CB radio sales has undergone tremendous change. What was once a booming industry run primarily by specialty shops that dotted the country has been reduced to a handful of online specially sites that are being choked out by large retailers with rock bottom prices and little or no service. To counter this, CB World has upgraded their site with state of the art software both for their online store, and for their CB radio blog.
The new e-commerce software offers many features that the previous version did not, such as product comparisons, a wish list, sorting by product features, discount coupon codes, and a gift registry. CB radios can be sorted, filtered, and compared by important features such as SSB operation, weather channel features, channel scan, and more. CB Antennas can be compared by length, antenna type, and mount type. The wish list and registry functions allow customers to create lists for tracking upcoming purchases and events. The new discount system allows CB World to offer managed promotions and discounts.
Along with these improvements, some of the fat has been cut from the site with the removal of poor performing categories. Radar detectors, FRS/GMRS radios, business radios, and other items are no longer available on the site. The offering that remains active on the site effectively brings CB World back to its roots: CB radios and CB antennas.
CB World has already received praise from excited customers. One customer wrote "You have really made my day. Great new prices, awesome new site. It is a huge improvement over the old site....Looks great, and very professional." The new coupon system is already being tried out with a "NEWCBWORLD" code that offers a discount on orders.
With this new software and a renewed determination, CB World hopes to remain competitive in an ever changing environment. CB radio and CB antenna sales have remained consistent over the past two decades, leveling off from the decline during the 80's and 90's. The goal now is to gain an increased share in the industry. Time will tell if this new software will go far to that end.