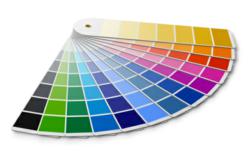 According to research by the CCICOLOR – Institute for Color Research, between 62% and 90% of a person's initial judgment of a product, person, or environment is based on color alone
(PRWEB) July 02, 2013
In a recently published blog post titled, How to Use Colors Your Customers Will Love, marketing expert Charles Gaudet provides an overview of how the subconscious impact of various colors can affect mood, first impressions, and decision-making.
"According to research by the CCICOLOR – Institute for Color Research, between 62% and 90% of a person's initial judgment of a product, person, or environment is based on color alone," says Gaudet, emphasizing the importance of choosing the right color scheme for all aspects of a company or marketing campaign.
Beyond the importance of choosing the right color to support a specific message, Gaudet also reminds readers that they have to find what works for their business specifically.
"Now, even though there's all this research about what colors work best for certain messages or target markets," he continues, "it's still up to you to figure out what works best for your company."
According to Gaudet, entrepreneurs and business owners should be prepared to test multiple versions of their advertisements to discover which color-driven reactions best suit their unique customers and prospects.
The Predictable Profits blog offers regularly updated articles and advice for business owners seeking to tap into unrealized potential and capitalize on underutilized opportunities for more consistent and predictable sales and profit.
ABOUT CHARLES GAUDET:
Charles Gaudet is widely recognized as a leading small business expert for entrepreneurs who aren't willing to settle for mediocre profits, and want to out-think, out-market, and out-earn their competition. His business advice has been featured on Inc., Fox Business, Forbes, and many other media channels. On his website, PredictableProfits.com, he's endorsed by a range of clients, reporting that Charlie's been the driving force behind marketing strategies earning as much as 6-figures in as little as just 24 hours, and anywhere from 30% to over 100% growth in under a year. He is the founder of Predictable Profits and the Publisher of The Predictable Profits Insiders Club. Follow Gaudet on Twitter at http://www.Twitter.com/CharlesGaudet.
ABOUT PREDICTABLE PROFITS:
Predictable Profits is a leading small business marketing company, specializing in finding overlooked marketing opportunities commonly found in most small-to-medium sized businesses for generating quick, dependable, and predictable profits without having to spend any more money in advertising.
For more information on how to grow your business, visit http://www.PredictableProfits.com and take the free Profit Profile Business Assessment to receive an instant snapshot of the opportunities and strengths existing in your business today.