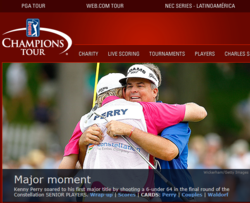 The Ruby Red IonLoop the Champion was wearing was given to him by veteran IonLoop tour rep Mike Neal during the Texas Swing
Dallas, Texas (PRWEB) July 02, 2013
On Sunday, this 52-year-old Kentuckian won the Senior Players for his first major title, overtaking Fred Couples on Sunday with a final round 6-under 64 with six birdies. The Champion finished his four rounds at 19-under 261 at Fox Chapel, two shots ahead of Couples and Duffy Waldorf. He clinched his first Senior Major as he continues his run of impressive performance wearing the Ruby Red Ionloop wristband – the same one he wore when he tied for second last month in the Senior PGA Championship.
The Ruby Red IonLoop the Champion was wearing was given to him by veteran IonLoop tour rep Mike Neal during the Texas Swing. "We are thrilled to add another win to our resume," said Bob Gotfredson IonLoop Co-Founder. "Mike Neal is an old friend of the new Champion and was thrilled to see him shoot 64 on Sunday with an IonLoop wristband," said Gotfredson.
"In today's era of ever-expanding technology—UV rays, cell phones, BlackBerrys, smart phones, and in fact all electronic devices that we are surrounded with each day – give off high levels of positive ions. IonLoop bracelets help your body fight back with one of the highest levels of negative ion content in the industry—which is why many of the top professional golfers in the world choose to wear IonLoop sport bracelets," said Melissa Gotfredson, CEO of IonLoop.
About IonLoop
IonLoop® negative ion bracelets, wristbands and necklaces are a great first-step in counteracting the harmful effects of positive ions. The negative ion properties are manufactured into the silicone bands themselves and will not lose their effectiveness over time. Most of the bracelets and necklaces also contain two small but powerful magnets that are carefully assembled so that they alternate the polarity of each magnet; we believe this manufacturing process may be adding another dimension to the potential stimulus that the magnets may have on the chemistry of the human body. Keep your eyes out for IonLoop bracelets during PGA Tour events and stay in the Loop!
For more information on IonLoop technology and to view all of the other IonLoop bracelets, please visit http://www.ionloop.com.