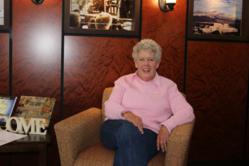 The center is comfortable, the staff is great, and I really like my team.
Loma Linda, CA. (PRWEB) July 02, 2013
When Diana Bibo's battle with cancer began in 2000, she underwent chemotherapy treatment in an open room with six infusion chairs and three nurses. Now, thirteen years later, the Redlands resident visits the beautifully designed Loma Linda University Cancer Center (LLUCC) three times a year for blood work where there are multiple infusion chairs, including semi-private chairs and private rooms available for patients. She alone has seven individuals from the Cancer Center on her care team.
"It's beautiful," she describes. "The center is comfortable, the staff is great, and I really like my team." Bibo continues her checkups just to "keep an eye on things."
Early this year, the Cancer Center received its third, yearly installment of $1 million of the $3 million gift from San Manuel Band of Mission Indians. The gift led to the creation of the San Manuel Band of Mission Indians Oncology Center and Biospecimen Laboratory within Loma Linda University Medical Center. It is this biospecimen laboratory that has been tracking Bibo's laboratory results, which remain stable, suggesting that her cancer is in remission.
"The biospecimen lab allows us to do research that lets us customize treatment and follow-up to a patient's specific cancer," says Mark Reeves, MD, PhD, director of LLUCC. "This lab places us in an exclusive network with the National Cancer Institute. We are so thankful to San Manuel Band of Mission Indians for helping us to raise the standard of research and care at Loma Linda."
Bibo was diagnosed with multiple myeloma—a cancer that begins in the white blood cells, which are part of the body's immune system necessary to protect it from germs and other foreign particles—in October of 2000 after she was referred by her regular doctor in Lake Arrowhead to Loma Linda University Medical Center.
She began treatment immediately. A Harrington rod was inserted into her spine to help compensate for the weakness. A stem cell transplant in 2003, however, had little effect, and the cancer returned.
She went through chemotherapy many times. "I got to know the staff really well since I was there so often," Bibo relates.
In addition to her medical oncologist, Chien-Shing Chen, MD, PhD, her team includes two pathologists—Jun Wang, MD, and Ted Rowsell, MD; two nurse practitioners—Maria Montero, NP, and Carolee Ross, NP; Teresa Gross, navigator/coordinator, who helped Diana find her way through a complex maze of tests, procedures, and treatments; and mental health specialist Talolo Lepale, MSW. "I feel well cared for at the Cancer Center," Bibo said.
After a total hip replacement in 2011, Bibo halted her ongoing chemotherapy treatments and thankfully never started up again. "My oncologist suggested that I try going off chemo and check back with him every four months or so," she recalls. "That was almost two years ago."
Bibo currently lives in Redlands with her daughter and granddaughter. Her adult son also lives in town with his family. "I'm so fortunate," she smiles. "I just knew that God—and Loma Linda—would come through."
Loma Linda University Cancer Center provides patient-focused, world-class care, provided by highly respected specialists in a convenient and accessible environment. The best cancer care requires highly skilled and compassionate providers who understand the complexity of each patient's needs. LLUCC'S commitment to whole person care ensures that the entire cancer treatment process is individualized and focused on treating each patient's physical, emotional and spiritual needs.
# # #