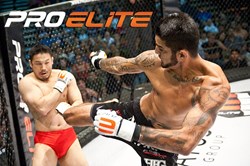 Kendall Wins by TKO in the First Round
Rolling Hills Estates, CA (PRWEB) July 02, 2013
MMA Fighter Kendall Grove (18-13) defeated Danny Mitchell (12-4) by TKO in the first round (4:53) this weekend at the "Global Warrior Challenge: The British Invasion" in Kansas City.
Grove was the winner of The Ultimate Fighter 3 and fought in the UFC for 5 years. Kendall's last 2 fights were losses by decision but could have gone either way. Mitchell won his last 3 consecutive fights by stoppage but hasn't fought since August 2012.
Grove commented, "Thank you to God, my wife, all of my training partners on Maui, Oahu, and in SoCal, my sponsors Punishment, Nation, Sunrite Maui, Defend Hawaii, Lahaina Tattoo, and Hawaii Fight Gear, and my agent Jill Baxter."
Grove's agent Jill Baxter says, "I'm very happy for Kendall. This was a big win for him and hopefully he can keep knocking out his opponents."
Watch the Fight: http://www.youtube.com/watch?v=7yXNDlXzBv0
For more information on Kendall, please visit: http://www.jillmcbridebaxter.com/clients/userprofile/kendallg