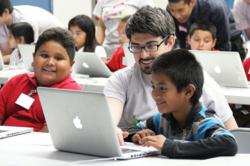 This was an electric day of learning for our students as their vision of what's possible expanded dynamically in this one session - Heideman Principal Eric Killian
Tustin, California (PRWEB) July 02, 2013
Nearly 50 third- through fifth-grade students in the THINK Together extended learning program at Heideman Elementary in the Tustin Unified School District got an up-close look into the internet when members of the Google staff paid a visit to the kids on Thursday, June 13.
Ten Google staffers visited the campus and brought laptop computers to work with the kids and teach them programming skills. It was the second year in a row that Google employees chose to volunteer their time and services with THINK Together through their annual Google Serve initiative.
"This was an electric day of learning for our students as their vision of what's possible expanded dynamically in this one session," said Heideman Principal Eric Killian. "To be taught by actual Google computer engineers and encouraged in this process as they learned the programming code, our students seemed to be floating in confidence and prodigious dreams of the future by the time the session had finished. We are extremely thankful to Google and THINK Together for collaborating to make this opportunity possible for our students, forever expanding their horizons of what their futures can become."
In one lesson, Google offered to teach students how to make a turtle move by typing in codes on the laptops. The activity helped the students focus on their Science, Technology, Engineering and Math (STEM) skills as well as build on what the students have already been learning during the school year through a computer programming pilot study.
The Google employees also had a presentation that discussed computer science, what it is and what it's all about. Then the ten volunteers spread out and worked with two to three students each for an hour and a half, followed by a second group for another hour and a half, to teach our students how to create shapes using code.
Each June, Google encourages its employees to leave their desks for a day to participate in service projects in their communities, ranging from cleaning graffiti to teaching prisoners. Additionally, Google matches employee skills to specific nonprofit needs, and allows them to use up to 20 hours of work time across the year to volunteer. In the last year, more than 5,000 Google employees tackled more than 400 projects around the world, to volunteer over 50,000 hours in the communities they live and work.
About THINK Together
THINK Together is one of the leading and largest nonprofit providers of academic support programs (early literacy, after-school, small group tutoring, summer learning, etc.) in the U.S., serving more than 100,000 students across 420 locations from San Diego to Sacramento. Partnering with school administrators and teachers, its academically oriented programs and dedicated team of 2,500 employees are helping students close the achievement gap. THINK is an acronym: Teaching, Helping, Inspiring & Nurturing Kids. For more information, call (888) 485-THINK or visit http://www.THINKtogether.org or http://www.facebook.com/THINKtogether.