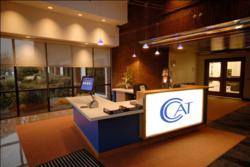 CCAT incubator facility expands with 10 new offices.
East Hartford, CT (PRWEB) July 03, 2013
Connecticut Center for Advanced Technology Inc. (CCAT), which operates a Connecticut incubator for start-up, technology-based businesses, is expanding its Pitkin Street facility in East Hartford, Conn. with 10 new offices totaling nearly 2,500 square feet to meet the office space demand by more new companies.
The CCAT incubator facility, which has been at capacity for several years, is currently home to 30 technology-based start-ups, businesses and academic partners including UCONN's Entrepreneurial Center and Intellectual Property Law Clinic, the Connecticut Technology Council, and the University of Hartford Partnership Office.
The facility offers technology-based start-ups access to essential resources including offices, application laboratories for manufacturing including additive manufacturing, research and development space, and conference and meeting facilities. Leases are offered to accommodate the specific needs of new businesses.
With the expertise of its Advanced Manufacturing Center focused on laboratories in machining, laser processes and modeling and simulation/metrology as well as centers of excellence in education and workforce development, and renewable energy planning, along with many strategic partnerships, CCAT offers new businesses valuable resources that extend beyond its expansive facilities.
"In today's competitive economic environment, it takes more than mere office space for new companies to get started on their journey to success," commented CCAT President & CEO Elliot Ginsberg.
"Technology-based businesses need to be able to test and develop their products. They need experts to whom they can turn for technical and business guidance. At CCAT, we provide the resources they need. We foster entrepreneurism and are dedicated to helping companies as they research innovative technologies, create unique products and services, and grow their businesses."
In addition to operating one of the state's technology-based incubators, CCAT also administers the Connecticut Small Business Incubator Grant Program. The program, sponsored by the state in partnership with the Connecticut Department of Economic and Community Development, provides grant funding directly to start-up companies that are housed in one of the state's 13 incubator facilities.
According to John Cunningham, CEO & president of Bad Elf, a nationally recognized company that is located at CCAT, the collaborative environment at the incubator facility is a valuable asset for new companies as they develop business plans and innovative technologies.
"It's thanks to the initial grant funding and the encouragement of the CCAT staff that we were able to push through the early challenges and deliver our award-winning GPS Pro to market," stated Cunningham. "The resources available to us as part of the CCAT Incubator Program have enabled us to move out of the basement and into a real office. We are still a small company, but we have global reach. From our sourcing activities in Asia to our distribution channels in Europe, Oceania, the Middle East, South America, and Africa, we have covered everyplace except Antarctica."
To learn more about the CCAT's technology-based incubator, go to CCAT Incubator.
For more information about the eligibility criteria for a Small Business Incubator Program grant, go to Grant Program for Incubator Companies.
About CCAT
The Connecticut Center for Advanced Technology, Inc. (CCAT), a unique economic development organization headquartered in East Hartford, Conn., leads partnerships between industry, academia and government, creating a collaborative framework for tackling today's economic challenges. CCAT combines expertise in cutting-edge manufacturing and information technology with specialized centers of excellence in education and workforce development and alternative energy solutions to help organizations increase efficiencies, compete and succeed.