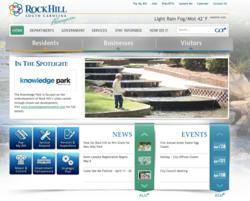 Vision guided us through the web restructure process professionally and effectively. The service we received was exceptional...
Rock Hill, South Carolina (PRWEB) July 03, 2013
The City of Rock Hill, South Carolina has launched a new government website. Accessed at http://cityofrockhill.com, the new website includes many enhancements to improve communications between the City and the community.
All aspects of the City website were addressed during redevelopment. A modern approach was taken with the design, a more intuitive approach with the navigation, and the dated technology used by staff members to update the website was upgraded to the leading government content management system, visionCMS™.
"To facilitate open communication in our community, the organization of the website was completely restructured with the citizens in mind," noted City Manager David Vehaun.
"Mega menus in the main navigation allow site visitors to see up to three levels of navigation at a glance, making endless searching a thing of the past. Important action-oriented services are also prominently displayed within the helpful "How Do I?" menu. Everything can be easily found within seconds of landing on the homepage."
Below the main navigation are sections dedicated to "Residents", "Businesses", and "Visitors". As one might expect, these sections provide direct access to useful information for the varying website audiences. Meanwhile, intuitive graphic icons directly link users to top interior pages including government transparency and service requests, among others.
Additional new features found on Rock Hill's new city website include:

GovTrack CMR™ – an eGov service that assigns, tracks, and manages all citizen service requests online
E-Notify – a way for citizens to sign up to receive automatic email updates from the City on specified topics
Responsive mobile design powered by visionMobile™
Government Transparency section featuring two interactive dashboards dedicated to sharing financial and performance information
Interactive community calendar system that can easily be filtered, shared and bookmarked, or added to users' personal calendar
The City worked alongside the longtime local government website experts at Vision Internet (http://www.visioninternet.com). With over 17 years of experience building award-winning government websites, the team at Vision Internet was able to help the City bring their vision of a powerful communication tool to life.
Vehaun commented, "Vision guided us through the web restructure process professionally and effectively. The service we received was exceptional and the new content management system has improved the quality of the content on our site."
A number of South Carolinian communities have worked with the Vision Team to transform their local government websites including Dorchester, Greenwood, and Kershaw Counties. To learn more about creating a successful city website, please visit http://www.visioninternet.com/inforequest.
About Vision Internet:
Vision Internet is the national leader in government website development with more than 500 government, non-profit, and education clients across the US and Canada. Over the past 17 years, Vision Internet has been creating industry-defining websites for communities ranging in populations of less than 1,000 residents to more than 5 million. Widely recognized as the government website experts, the company has earned hundreds of prestigious industry awards for its unique websites.