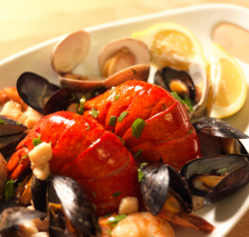 The lobster bake arrived on time and fresh, and the presentation upon opening the boxes was excitingly appealing.
(PRWEB) July 01, 2013
GetMaineLobster.com is ready to celebrate Independence Day and the long holiday weekend with family and friends, and the team at the Maine lobster delivery service can't think of a better way to get seafood lovers into the party mood than with a Maine lobster bake.
Currently on special for $59.00 – a discount of $71.00 off of the standard price – the Black Point Maine Lobster Bake for Two is the best way to enjoy all that Maine seafood has to offer. Chef Margaret Salt McLellan, 2008 Maine Lobster Chef of the Year, hand-selected each seafood morsel in this classic Maine lobster bake. The bake includes two three- to four-ounce Maine lobster tails, eight ounces of mussels or clams, four jumbo shrimp, four Atlantic crab claws and two of Maine's delicious cobs of corn. This party-ready meal arrives in a self-cooking baking sleeve and is ready in less than an hour in the oven or on the grill.
For the heartier appetites, opt for Get Maine Lobster's Superior Lobster Bake for Two for just $85.00 – a discount of $100.00! This authentic Maine lobster bake, in addition to the standard Maine lobster bake, includes two additional Maine lobster tails and two five-ounce Filet Mignon. This is a great appetizer for a July 4th party or as a light seafood meal for two. Enter discount code "SUPERIORSPECIAL" upon checkout.
"The lobster bake arrived on time and fresh, and the presentation upon opening the boxes was excitingly appealing," says Jim, a Get Maine Lobster customer from Georgia. "The ease of preparation was outstandingly simple and the directions tremendously understandable. Most importantly, dinner was indescribably delicious! I highly recommend it and will order this again."
Learn more about Get Maine Lobster's Fourth of July specials, a wide range of seafood offerings, including lobster and seafood recipes, and view weekly specials by visiting GetMaineLobster.com or by calling (866) 562-4817. Stay updated and Like us on Facebook or follow us on Twitter.
About GetMaineLobster.com
GetMaineLobster.com, a division of Black Point Seafood and Black Point Gourmet, hand-selects the finest Maine lobster, seafood and beef products for convenient distribution throughout the United States. Their passion is to make fresh, quality seafood readily available to customers across the country, which is why they buy from only the most trusted, well-established suppliers to ensure that they receive the finest products available.
GetMaineLobster.com was selected out of the more than four million small American businesses served by Chase bank to represent its new Platinum Business Checking product for its 2013 national advertising campaign.