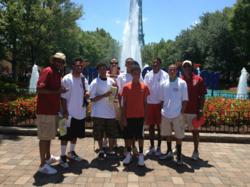 To Encourage Honorable Achievement In Every Field Of Human Endeavor
Vienna, Virginia (PRWEB) July 05, 2013
The Dulles Leesburg Alumni (DLA) Chapter of Kappa Alpha Psi Fraternity and members of its Kappa Leauge program strolled through Kings Dominion theme park this past Saturday, June 29.
Brothers Frank Jenkins, Billy McCain and newly elected GuideRight Chairman Mark Hopson, chaperoned the teens as they enjoyed the exciting attractions throughout the park, which is located in Doswell, VA.
"This trip to Kings Dominion was the culminating activity of this year for Kappa Leaguers," says DLA Board Member Frank Jenkins. "We had six teens join us, including one new Leaguer, and one who had recently graduated."
This summer, the DLA Chapter plans to have at least one Kappa League social event for the months of July and August. In September, DLA Kappa Leaguers will attend the PG Classic football game at Howard University, where they'll be joined by other Kappa League programs established throughout the Eastern Province.
Guide Right Chairman Mark Hopson and Co-Chairman Ben Abney say they expect the best for this year's participants. According to Hopson, DLA is a chapter that continues to build every year while its Kappa League is both healthy and actively functioning to engage boys in academics and social development.
"Our chapter consists of many visionaries who have rich backgrounds in developing and contributing to the future of young adults," says Hopson. "Kappa League is just another way of investing in the future, not only in terms of Kappa Alpha Psi, but also in terms of the larger society."
For the past four years, the Dulles Leesburg Alumni Chapter has proudly encouraged its Guide Right Committee to mentor students, as well as provide various programs throughout the year for young men in the community. Some of the chapter's current programs include: Kareer Konnections, Kappa Leadership, and Kappa Golf Klinic.
For more information about the DLA Chapter of Kappa Alpha Psi Fraternity, and its Kappa League program, please visit the Chapter website at: http://www.dlkapsi.org/.