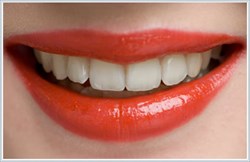 My smile makes me feel confident and beautiful
(PRWEB) July 10, 2013
There is nothing more attractive than a woman who flaunts a great smile. Life takes a major toll on the teeth between candy, soda and red wine everyone could use a touch up now and then. Luckily, there are many avenues to keep the teeth pearly white. Dr. Smigel the founder of SuperSmile dishes about some of his favorite at-home teeth whiteners.TheBeautyPlace.com presents the right tools to create the perfect smile.
According to Dr. Smigel the easiest and safest whitening option is to regularly brush with"non-abrasive whitening toothpaste". Whitening tooth pastes like,Supersmile Whitening Toothpaste, are ideal for those on a budget and want gradual whitening. Dr. Smigel advices people to stay away from toothpastes that list silica as an ingredient. "Silica is an abrasive ingredient that scratches the stain from the tooth enamel." Other ingredients that should be avoided are Sodium lauryl sulfate, a common detergent that can aggravate (and even cause) oral problems such as canker sores and bad breath.
Another great option is to consistently touch up the teeth between long spouts of not whitening. Go Smile Ultimate Whitening System 7 day is a great way to keep the teeth white. Once the teeth have already been whitened, use this smile-perfecting Touch Up to aide in keeping the teeth white. It's as easy as 1…(Flip) 2…(Pop) 3…(Touch Up) after eating and drinking to help avoid stains setting on the teeth. This portable whitening product works like a mid day brush. It specifically targets the bacteria that causes bad breath and leaves your mouth feeling minty and refreshed.
Using a whitening system is ideal for those looking for quick whitening. Go Smile Speed Whitening System is a 2-step teeth whitening system applied morning and night with visible results in 4 days. It is a fast way to whiten teeth and perfect for people with teeth sensitivity. Included are the Smile Whitening Ampoules and the Pre-Whitening Amplifier Gel, a clear, flavorless primer that, when applied to teeth first, accelerates the release of stain-fighting oxygen ions from the whitener that is applied directly on top of it which adds extra sensitivity protection and speeds up the whitening process.