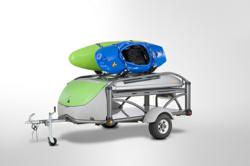 With the PRO-GO Getter program, we're taking the GOs out of the showroom and out into the real world, where they belong.
Brevard, NC (PRWEB) July 02, 2013
Brevard-based company SylvanSport, makers of the lightweight pop-up camping trailer, the GO, have announced an exciting new "PRO-GO Getter" program that helps GO fans with industry connections become GO owners and brand ambassadors, with the potential to earn referral fees. It also helps put more GOs on the map, for aspiring GO owners to explore and experience firsthand.
"When people call about the GO, the first thing they want to know is where they can see one in person," explained Tom Dempsey, the founder of SylvanSport. "With the PRO-GO Getter program, interested customers can connect with GO owner insiders to see the full versatility of the GO camping trailer in action, for themselves."
The GO pop-up camper is designed from the frame out to be a one-of-a-kind mobile adventure trailer that's even more versatile than a Swiss army knife. On their website, SylvanSport illustrates how the lightweight GO, called the "Coolest. Camper. Ever," by National Geographic Adventure, tows behind any vehicle, including hybrids, and hauls bikes, kayaks—even motorcycles—before transforming into a comfortable camping trailer with a living space that can sleep 4 with ease.
"The GO pop-up camper is something you have to see in person to fully appreciate the design and craftsmanship," said Kyle Mundt, Marketing Director for SylvanSport. "People are always amazed with how lightweight and strong the GO is, and how easy it is to load, haul, and convert into a camping trailer."
For qualified PRO-GO Getters, the benefits of being a brand ambassador for the GO camping trailer are many.
Rewards include:

Savings of up to $2,500 off the manufacturer's suggested retail price for purchase GO pop-up camping trailer
Referral fees of $300 for every completed sale of the GO pop-up camper
A complete GO camping and adventure package, including an awning, spare tire, 4 mattresses and 2 bed/seat/tables
Special SylvanSport merchandise like camping chairs and a team PRO-GO t-shirt
A custom web page on sylvansport.com to help direct customers to ambassadors
Sales support literature and pull-up event banners for events
Access to partner company PRO-deals on all kinds of outdoor adventure gear
"SylvanSport is born of roots in the outdoor industry, so we've always had a great Industry PRO Deal on the GO Camper. Our new PRO-GO Getter deal takes that many steps further, giving our industry friends all the tools needed to be great ambassadors for the GO, and earn some real money in the process," said Dempsey.
Added Mundt, "With the PRO-GO Getter program, we're taking the GOs out of the showroom and out into the real world, where they belong."
Eric Albert is a SylvanSport PRO-GO Getter, and an Adventure Travel Consultant out of Alberta, Canada, who says he's excited about the potential for the PRO-GO Getter program. "It gives prospective customers an unbiased, experienced opinion about the GO, helping them make a more informed decision on their investment."
As an avid kayaker, kayak instructor, and director for the Alberta Freestyle Kayaking Association, Albert is hard pressed to pick his favorite GO feature. "It's a tossup of either being able to carry about 10 kayaks to festivals, or waking up, stretching, and not having to crawl out of a ground tent in the early morning," he said. "I love the innovative design, the versatility, the low profile, and the ability to carry all my toys to the hills!"
Recently, Albert took the GO on a dream kayaking trip through the rugged landscape of Northern Idaho where he used it as a hauling machine for his group's rafts, gear, and kayaks. "It doubled as our accommodations for our prep and post expeditionary purposes," he said. "They call it the Swiss Army Knife of pop-up campers for a good reason."
About SylvanSport and the PRO-GO Getter Program
To see a 365-degree view of the SylvanSport GO camping trailer, plus live videos demonstrating the versatility and design innovation of the GO camping trailer, and for applications and more information about the PRO-GO Getter program, visit SylvanSport.com.