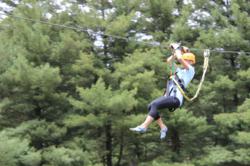 Asheville, NC (PRWEB) July 01, 2013
On June 2, Asheville Zipline Canopy Adventures and Treetops Adventure Park hosted and sponsored the second annual Wells Fargo Zipping for Autism. The fundraiser generated over $39,000 for the Autism Society of North Carolina (ASNC) through more than thirty teams of ten participants and a significant increase in sponsorship support. All of the proceeds will go to assist families in Western North Carolina with services and support through ASNC's Sara Handlan Crisis Fund, Respite Scholarship Fund, and advocacy expansion.
Organizers are already planning the third Zipping for Autism scheduled for June 1, 2014, when participants will once again fly, climb, and propel through the trees while raising money for individuals with autism and their families in the region. Zipping for Autism is the creation of Sheena and Jeff Greiner, owners of the Canopy Adventures, as a way to give back to the Autism Society of NC and to celebrate the birthday of their son, O'Reilly.
For more information about this event or the Autism Society of NC, please contact Simone Seitz in the regional office at sseitz(at)autismsociety-nc(dot)org or 828-236-1547.
Background:
Autism Spectrum Disorder (ASD) is a lifelong developmental disability that typically appears during the first three years of life. Recent studies estimate that up to 1 of every 70 children born in North Carolina will be affected by ASD. For over forty years, the Autism Society of North Carolina has led efforts to address areas of need and expand services for the autism community in North Carolina. ASNC works to directly improve the lives of individuals affected by autism, by providing advocacy, education, and direct services.
Additional information is available by calling 1-800-442-2762 or visiting http://www.autismsociety-nc.org.