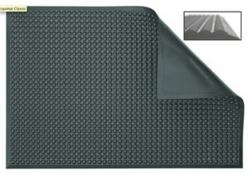 "The quality and price of Creative Safety Supply's ergomats are the best! Our workers can stand for hours without any complaint of body aches. We love it!"
Lake Oswego, OR (PRWEB) July 03, 2013
There are numerous businesses today that require employees to stand for a long period of time. Standing in one spot for hours on end can cause body aches, quality issues, and sick leaves resulting in productivity decline and compensation costs. Creative Safety Supply is now offering standard ergonomic work mats that will provide employees relief from the strains of standing for any length of time.
Ergomat anti-fatigue mats were developed specifically to solve the problems of short-term fatigue and long-term injury associated with standing work positions. Creative Safety Supply's ergomats are rated as having the longest warranty on the market and backed by up to an eight year warranty. The advanced technology that went into creating these ergonmats makes for an exceptional durable product. A variety of mats are offered to fit in most any plant's needs creating a better and more comfortable work environment.
The standard ergonomic work mat is the perfect solution for assembly areas, dry work environments, or where static electricity control is a must. The anti-static mat meets the cleanroom class 5 (100) rating. The beveled edges ensure workers don't trip and is constructed of a durable solid material that will not collapse underfoot and lays flat.
Businesses can increase their earnings by simply providing comfort for employees. Ergomats increases worker's moral and therefore productivity increases. Erogomats will reduce or eliminate short-term fatigue and discomfort resulting in a decrease of employee absenteeism and sickness.
A plant manager commented, "The quality and price of Creative Safety Supply's ergomats are the best! Our workers can stand for hours without any complaint of body aches. We love it!"
For more information about ergonomic work mats, please visit Creative Safety Supply or call toll-free (866)777-1360 to speak with a professional representative.